https://help.myob.com/wiki/x/RaQ6Ag
Do not delete this page - MYOB Practice and MYOB Academy navigate to it
You can set preferences for each client in MYOB Practice that's linked to an MYOB Essentials file. For example, how frequently you want to prepare coding reports for their file, their preferred file format (PDF or Excel) and other report settings.
When selecting the report frequency while setting up coding report preferences, you can also set reminders for your staff to generate coding reports for clients.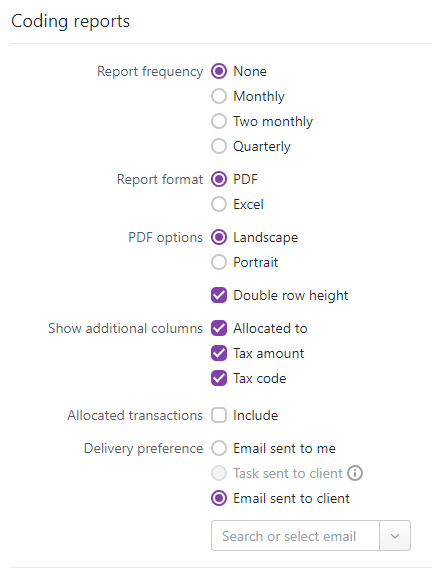 Coding report preferences
How to set preferences
Message templates
When you send coding report emails or tasks to clients, we'll provide a subject line and body for you, and these are also used as the task title and description.
If you'd like to provide your own text, you can create a message template. The template can be used for multiple clients, and it saves you from having to tweak the default text we've provided each time you send the reports.