https://help.myob.com/wiki/x/OhGEAQ
Do not delete this page - MYOB Practice navigates to it from within the product
May 2020
21 May:
Accelerated depreciation rules: The ATO introduced the option for small businesses to deduct the cost of depreciating assets at an accelerated rate. We've updated the Assets page to let you use the accelerated depreciation rate. To apply the rate, you need to meet the eligibility criteria. Learn more.
11 May:
This feature is available if you are part of the Compliance beta program. To opt-in, contact MYOB Support or email us.
Financial reports: The newly arrived Financial reports feature completes the compliance workflow in MYOB Practice. It will create a professional set of financial reports which are easy to use, customisable for your practice, and most importantly, will automatically bring across any data entered in a tax return. This first release includes a basic set of statutory reports, with limited customisation. Reports for Companies is available first, with Trusts and Partnerships coming soon. Learn more.
April 2020
7 April:
Enhanced user interface: MYOB Practice has a slick new look. To make things easy to find onscreen, the left menu bar is darker, and client and staff avatars have a splash of colour. Colours are given to avatars randomly, but each avatar keeps their given colour throughout MYOB Practice.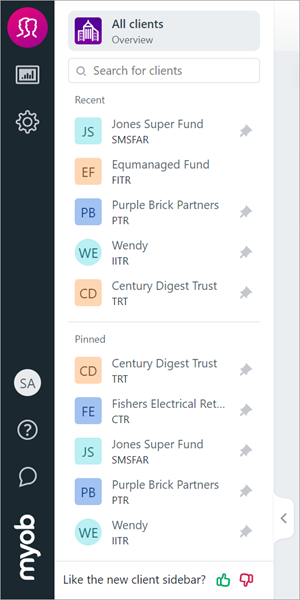 February 2020
20 February:
Advisory: Advisory reports now include a detailed accounts payable analysis that highlights who and what clients owe, and which payments to focus on first. Great for keeping their cashflow, and supplier relationships, in check. Learn more
12 February:
Asset register (New Zealand only): We're doing great things on Compliance for New Zealand in 2020. For now, access your online asset register via Transaction Processing.

2017
December 2017
The Accounting dashboard now helps you work more efficiently with MYOB AccountRight files that are online. See how many transactions need to be allocated for each company file, and which months need reconciling. Learn more.
November 2017
Task reminders: You can now resend a task as a reminder to clients and users who haven't completed their tasks. Learn more
View notification history: For all actions that create an email notification to or from your practice, you can now see when the email was delivered and opened, and if the link in the email was clicked. Learn more
May 2017
The Accounting dashboard has been upgraded with powerful new features that make it easier for you to manage and work on your MYOB Essentials clients' business files. Learn more.