https://help.myob.com/wiki/x/HQEkAw
Close
How satisfied are you with our online help?*
Just these help pages, not phone support or the product itself
Very dissatisfied
Very satisfied
Why did you give this rating?
Anything else you want to tell us about the help?
Online company files only
If your AccountRight company file is online, you can now access that file using a web browser (if it's not online, find out how to put it there). This means you can work on files using any device with an internet browser, like your computer (PC or Mac), tablet – or a smartphone!
Send an invoice on site, match bank transactions on the train, check your business performance in the coffee queue – browser access for AccountRight gives you new levels of flexibility.
Choose which experience you prefer and switch between them with ease, whether you prefer working from home, in the office, or on the move.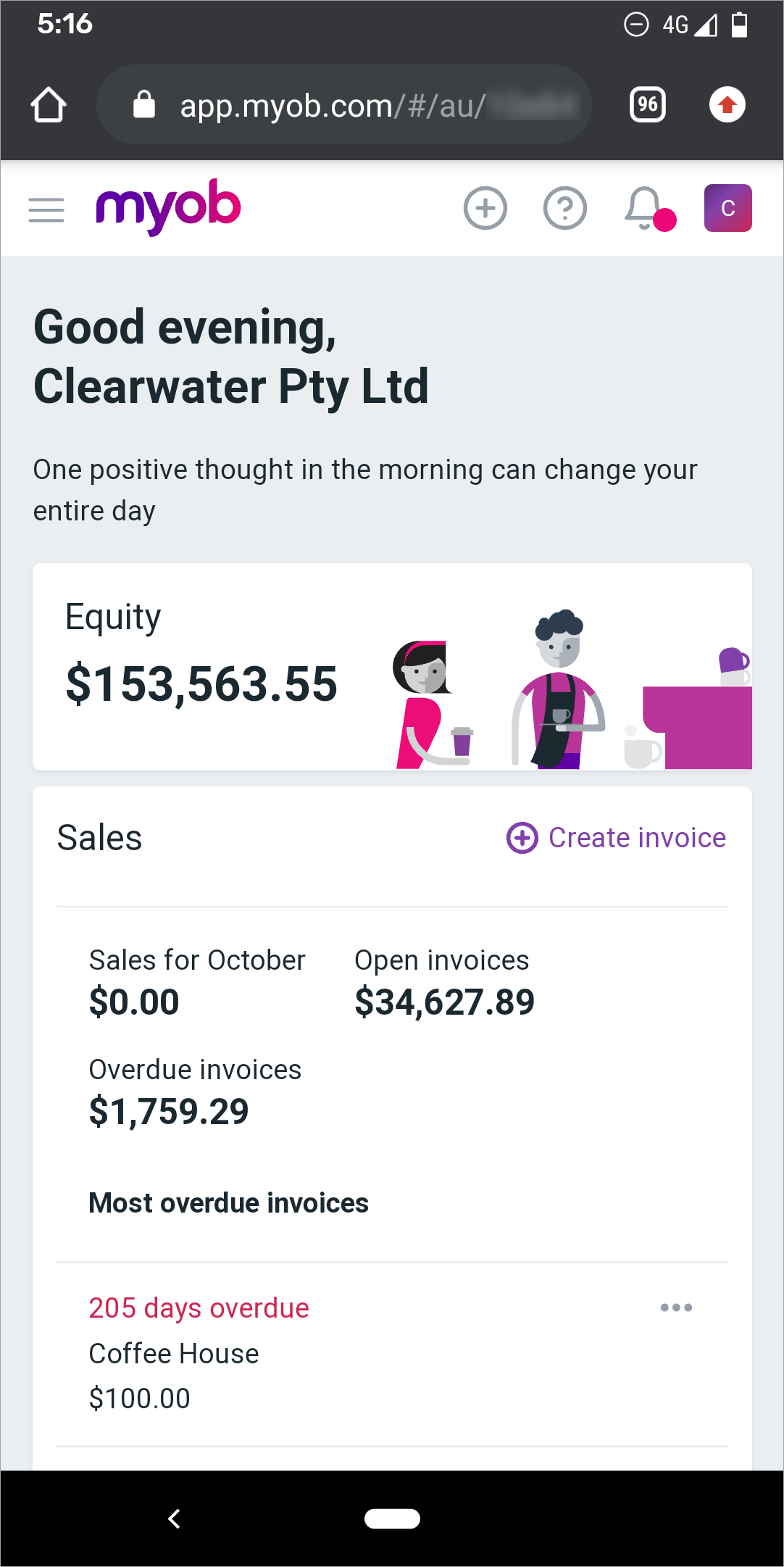 Enjoy these benefits using any device, any time
Easy cashflow visibility. Make better business decisions with clear, easy to understand insights, directly from the dashboard 
Powerful reporting and business insights. Move effortlessly between summary and detailed views, cash or accrual in the same report, or run a Profit & Loss report over unlimited financial years. Compare month to month, quarter on quarter, year on year – with fully customisable views. Run consolidated reports across multiple files – no more messy exports.
Robust new functionality. Powerful new features such as Quantities and the Excel Plugin
(MYOB Partners) A consistent experience. MYOB Partners can switch between MYOB Essentials and AccountRight clients seamlessly as both programs have identical workflows, payroll, banking rules and reporting
In-product help. Useful hints and tips on how to use browser features available for you without having to leave your software
Find out about the many benefits of accessing your client's AccountRight files in a browser AU | NZ.
How to access an AccountRight file in a browser
In the latest version of AccountRight, you can go from your software to the browser with the click of a button.
From AccountRight
From AccountRight
Online company files only
Open your AccountRight company file as you normally would and click the Open in web browser button.

If prompted, sign in to your MYOB account and enter a two-factor authentication code. Then select the company file you want to work on.
From a web browser
From a web browser
You can access your online company file on any device that can run a web browser, like a smartphone, tablet or Mac.
Go to app.myob.com and log in with your MYOB details. If you haven't signed into your MYOB account yet, you will need to enter your account's email address and password (the same details you use to sign into the My Account), and then click Sign In.
After entering your email address and password, you might also be prompted to enter a verification code. This is part of two-factor authentication to protect your online data.
Different look, same data
When you access an AccountRight company file in a browser, you'll notice that some things are familiar and others are a little different.
The first thing you'll notice is the dashboard. This provides you with a simple, easy-to-read snapshot of how your business is going.
Across the top of the screen there are various menus corresponding to the command centres in AccountRight.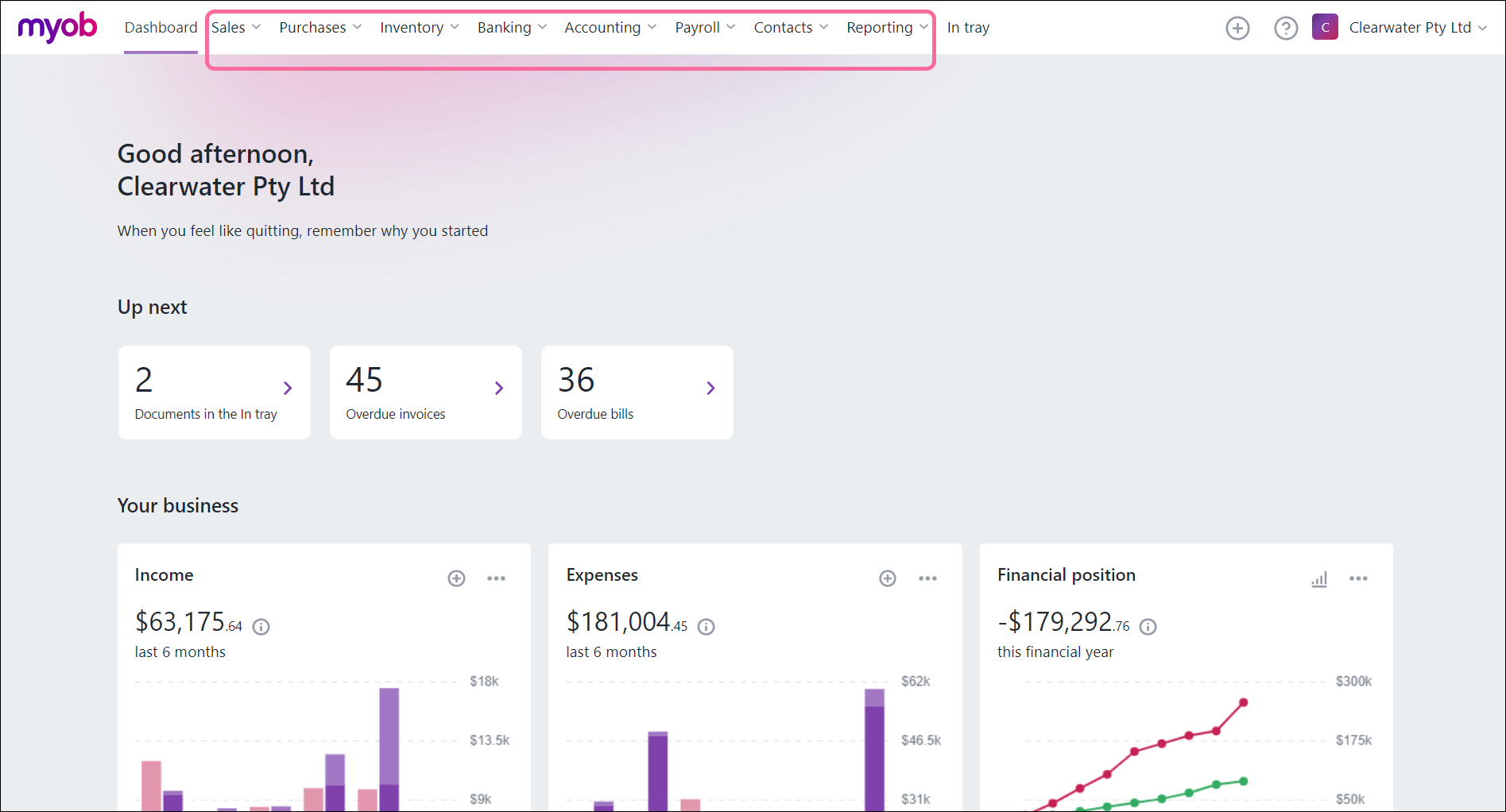 Looking for employees? Go to the Payroll menu > Employees.
Even though some things are different, you're working on exactly the same information that's in your AccountRight software. You can switch between the browser and your software and your information is kept up to date.
Take the time to click menus and view pages and explore the various functions to see what's familiar and what's different.
Note that some features are still on the way.
Need help?
At the top right of any page, click the question mark

to open the help panel.
You'll see info relating to the page you're on, without having to leave your software. Depending on the page, you might also see some frequently asked questions or links to more detailed help topics.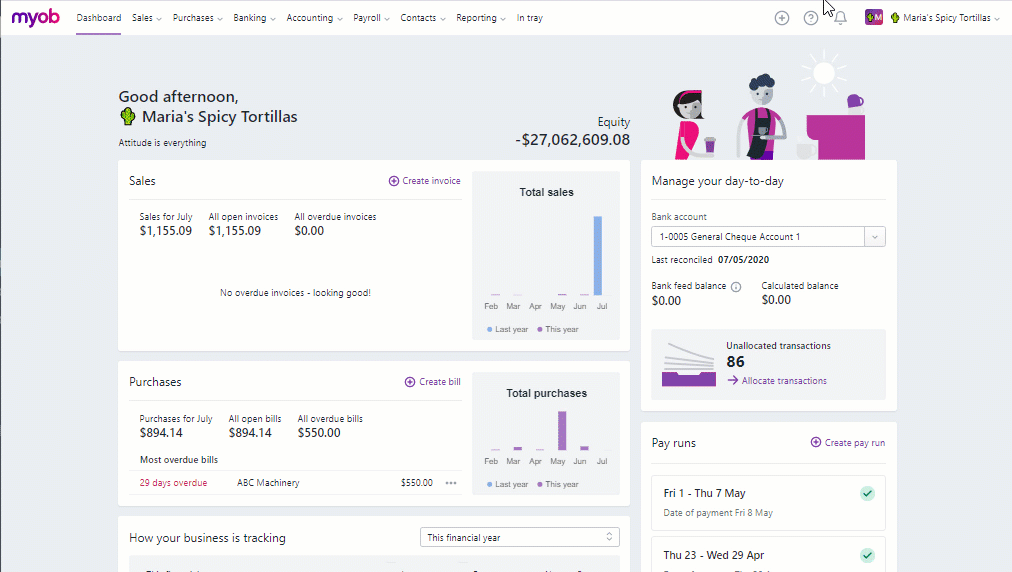 Some features are still on the way
There are a few features we're still working on so they're not yet available when using AccountRight in a web browser.
FAQs
If I use AccountRight in a browser, can I also use my AccountRight software?
If I use AccountRight in a browser, can I also use my AccountRight software?
Yes. You can decide which way is the best for you to work – in a browser or in your software or both. As company file data is stored in the cloud, AccountRight accesses and updates the same data whether from the browser or your installed software.
This information is synchronised immediately, so if you make a changes in the browser (for example, adding an invoice), then you would see that change in your AccountRight software (and vice versa).
Note that some windows in your AccountRight software need to be manually refreshed by clicking the refresh icon

.
Why don't my bank feeds rules automatically apply when accessing AccountRight in the browser?
Why aren't my bank feeds rules automatically apply when accessing AccountRight in the browser?
In order for bank feed rules to automatically approve or allocate bank transactions in the browser, you'll need to ensure the following preferences have been selected in your AccountRight software in the Setup menu > Preferences window > Banking tab: