https://help.myob.com/wiki/x/aAB7
Close
How satisfied are you with our online help?*
Just these help pages, not phone support or the product itself
Very dissatisfied
Very satisfied
Why did you give this rating?
Anything else you want to tell us about the help?
The following tables list the windows and tasks in AccountRight that you can control access to by assigning roles. You can change the default roles if you want, or you can duplicate them and make your changes (right-click the default role and select Duplicate Role). 
Only the user with the Administrator user account can assign roles or change the default roles. See Manage users.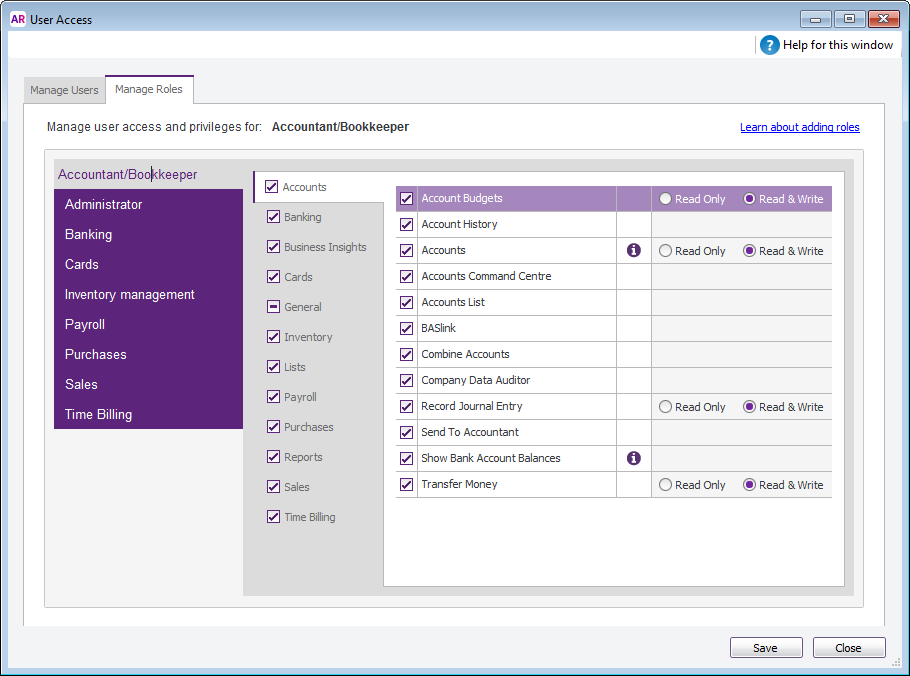 Just as the Manage Users tab allows you to assign roles to users, the Manage Roles tab allows you to customise what functions each role has. Any change you make to a role affects anyone that has been assigned that role.
For example, if you wanted to restrict the access that someone with the Sales role has to Accounts functions, you would click Sales > Accounts and then select or deselect particular functions:

The default roles already have relevant access settings set up, but you can easily customise these.
Accounts
Accounts
|   | Administrator | Accountant/Bookkeeper | Banking | Cards | Inventory management | Payroll | Purchases | Sales | Time Billing |
| --- | --- | --- | --- | --- | --- | --- | --- | --- | --- |
| Accounts Budgets | Y | Y |   |   |   |   |   |   |   |
| Account History | Y | Y |   |   |   |   |   |   |   |
| Accounts (account information and history, add and edit accounts) | Y | Y |   |   |   |   |   |   |   |
| Accounts Command Centre | Y | Y |   |   |   |   |   |   |   |
| Accounts List | Y | Y |   |   |   |   |   |   |   |
| BASlink (AU) | Y | Y |   |   |   |   |   |   |   |
| Combine Accounts | Y | Y |   |   |   |   |   |   |   |
| Company Data Auditor | Y | Y |   |   |   |   |   |   |   |
| GST & Provisional Tax (NZ) | Y | Y |   |   |   |   |   |   |   |
| Record Journal Entry | Y | Y |   |   |   |   |   |   |   |
| Send to Accountant | Y | Y |   |   |   |   |   |   |   |
| Show Bank Account Balances (in transaction windows) | Y | Y | Y |   |   | Y | Y | Y | Y |
| Transfer Money | Y | Y | Y |   |   |   |   |   |   |
Banking
Banking
|   | Administrator | Accountant/Bookkeeper | Banking | Cards | Inventory management | Payroll | Purchases | Sales | Time Billing |
| --- | --- | --- | --- | --- | --- | --- | --- | --- | --- |
| Bank Entry/Deposit Adjustment (reconciliation and bank deposit) | Y | Y | Y |   |   |   |   |   |   |
| Bank Feeds | Y | Y | Y |   |   |   |   |   |   |
| Bank Register | Y | Y | Y |   |   |   |   |   |   |
| Banking Command Centre | Y | Y | Y |   |   |   |   |   |   |
| Get Statement | Y | Y | Y |   |   |   |   |   |   |
| Prepare Bank Deposit | Y | Y | Y |   |   |   |   |   |   |
| Prepare Electronic Payments | Y | Y | Y |   |   | Y | Y |   |   |
| Print Cheques | Y | Y | Y |   |   | Y | Y |   |   |
| Print Receipts | Y | Y | Y |   |   |   |   | Y |   |
| Print/Email Remittance Advice | Y | Y | Y |   |   |   | Y |   |   |
| Receive Money | Y | Y | Y |   |   |   |   |   |   |
| Reconcile Accounts | Y | Y | Y |   |   |   |   |   |   |
| Spend Money | Y | Y | Y |   |   | Y |   |   |   |
| Undo Reconciliation | Y | Y | Y |   |   |   |   |   |   |
Business Insights
Business Insights
|   | Administrator | Accountant/Bookkeeper | Banking | Cards | Inventory management | Payroll | Purchases | Sales | Time Billing |
| --- | --- | --- | --- | --- | --- | --- | --- | --- | --- |
| Account Details | Y | Y |   |   |   |   |   |   |   |
| Business Insights | Y | Y | Y |   |   |   | Y | Y |   |
| Customer Analysis | Y | Y |   |   |   |   |   | Y |   |
| Profitability Details | Y | Y |   |   |   |   |   |   |   |
| Supplier Analysis | Y | Y |   |   |   |   | Y |   |   |
Cards
Cards
|   | Administrator | Accountant/Bookkeeper | Banking | Cards | Inventory management | Payroll | Purchases | Sales | Time Billing |
| --- | --- | --- | --- | --- | --- | --- | --- | --- | --- |
| Card History (History tab of Card Information window) | Y | Y | Y | Y | Y | Y | Y | Y | Y |
| Combine Cards | Y | Y |   |   |   |   |   |   |   |
| Contact Log (view and create log entries) | Y | Y | Y | Y | Y | Y | Y | Y | Y |
| Create Personalised Letters | Y | Y | Y | Y | Y | Y | Y | Y | Y |
| Credit Limit & Hold | Y | Y |   |   |   |   |   |   |   |
| Customer Cards | Y | Y | Y |   |   |   |   | Y | Y |
| Customer Payment Details | Y | Y | Y | Y |   |   |   | Y |   |
| Customer Selling Details | Y | Y |   |   |   |   |   | Y |   |
| Employee Cards | Y | Y |   |   |   | Y |   |   |   |
| Employee Payment Details | Y | Y | Y | Y |   | Y |   |   |   |
| Employee Payroll Details (AU) | Y | Y |   |   |   | Y |   |   |   |
| Personal Cards | Y | Y | Y | Y | Y | Y | Y | Y | Y |
| Print Mailing Labels | Y | Y | Y | Y | Y | Y | Y | Y | Y |
| Supplier Buying Details | Y | Y |   |   |   |   | Y |   |   |
| Supplier Cards | Y | Y | Y |   | Y |   | Y |   |   |
| Supplier Payment Details | Y | Y | Y | Y |   |   | Y |   |   |
| Synchronise Cards | Y | Y |   |   |   |   |   |   |   |
General
General
|   | Administrator | Accountant/Bookkeeper | Banking | Cards | Inventory management | Payroll | Purchases | Sales | Time Billing |
| --- | --- | --- | --- | --- | --- | --- | --- | --- | --- |
| Administration Tasks (set up company information, linked accounts, opening balances and profit/loss distribution. Migrate forms, close financial years. Access the Easy Setup Assistant, the Business Calendar and AccountantLink) | Y | Y |   |   |   |   |   |   |   |
| Allow Delete/Reverse (of transactions, based on your security preferences) | Y | Y |   |   |   |   |   |   |   |
| Back Up Company File | Y | Y | Y | Y | Y | Y | Y | Y | Y |
| Change Product | Y |   |   |   |   |   |   |   |   |
| Close a Financial Year | Y | Y |   |   |   |   |   |   |   |
| Close a Payroll Year (AU) | Y | Y |   |   |   |   |   |   |   |
| Customise Forms | Y | Y | Y | Y |   | Y | Y | Y | Y |
| Find Transactions | Y | Y | Y | Y | Y | Y | Y | Y |   |
| Find Transactions (Card tab) | Y | Y | Y | Y | Y | Y | Y | Y |   |
| Find Transactions (Category tab) | Y | Y |   |   |   | Y |   |   |   |
| Find Transactions (Job tab) | Y | Y |   |   |   |   |   |   |   |
| Import/Export Assistant | Y | Y |   |   |   |   |   |   |   |
| Preferences | Y | Y |   |   |   |   |   |   |   |
| Restore Company File | Y | Y | Y | Y | Y | Y | Y | Y | Y |
| Roll Back A Financial Year | Y | Y |   |   |   |   |   |   |   |
| To Do List (all tabs) | Y | Y | Y | Y | Y | Y | Y | Y | Y |
| Transaction Journal (all tabs) |  x | Y | Y |   | Y | Y | Y | Y |   |
| Transaction Journal (All tab) | Y | Y |   |   |   |   |   |   |   |
| Undo Check Out | Y | Y |   |   |   |   |   |   |   |
| User Access | Y |   |   |   |   |   |   |   |   |
| View Sent Emails | Y | Y | Y | Y | Y | Y | Y | Y | Y |
| Work Offline, (Check In) / Work Online (online administrators only) | Y | Y |   |   |   |   |   |   |   |
Inventory
Inventory
|   | Administrator | Accountant/Bookkeeper | Banking | Cards | Inventory management | Payroll | Purchases | Sales | Time Billing |
| --- | --- | --- | --- | --- | --- | --- | --- | --- | --- |
| Adjust Inventory | Y | Y |   |   | Y |   |   |   |   |
| Auto Build Items | Y | Y |   |   | Y |   |   |   |   |
| Build Items | Y | Y |   |   | Y |   |   |   |   |
| Count Inventory | Y | Y |   |   | Y |   |   |   |   |
| Inventory Command Centre | Y | Y |   |   | Y |   |   |   |   |
| Item History | Y | Y |   |   | Y |   |   |   |   |
| Items (item information and history, add and edit items) | Y | Y |   |   | Y |   |   |   |   |
| Items Register | Y | Y |   |   | Y |   |   |   |   |
| Set Item Prices | Y | Y |   |   | Y |   |   |   |   |
Lists
Lists
|   | Administrator | Accountant/Bookkeeper | Banking | Cards | Inventory management | Payroll | Purchases | Sales | Time Billing |
| --- | --- | --- | --- | --- | --- | --- | --- | --- | --- |
| Accounts List |  x | Y |   |   |   |   |   |   |   |
| Activities (create, view, edit) | Y | Y |   |   |   |   |   |   | Y |
| Categories | Y | Y |   |   |   |   |   |   |   |
| Custom Lists | Y | Y | Y | Y | Y | Y | Y | Y | Y |
| Custom Lists and Field Names | Y | Y | Y | Y | Y | Y | Y | Y | Y |
| Employment Classifications (AU) | Y | Y |   |   |   | Y |   |   |   |
| Identifiers | Y | Y | Y | Y | Y | Y | Y | Y | Y |
| Items (item information and history, add and edit items) | Y | Y |   |   | Y |   |   |   |   |
| Job Budgets | Y | Y |   |   |   |   |   |   |   |
| Jobs (job information and history, add and edit jobs) | Y | Y |   |   |   |   | Y | Y |   |
| Jobs List | Y | Y |   |   |   |   |   |   |   |
| Payroll Categories (AU) | Y | Y |   |   |   | Y |   |   |   |
| Recurring Transactions (access the complete list. If deselected, the user can only access recurring transactions from, and relevant to, the windows they are permitted to use) | Y | Y | Y |   |   |   | Y | Y |   |
| Sales & Purchases Information (create and edit comments, shipping methods, referral sources and payment methods) | Y | Y | Y | Y | Y | Y | Y | Y | Y |
| Superannuation Funds (AU) | Y | Y |   |   |   | Y |   |   |   |
| Tax Codes (tax code information and history, add and edit tax codes) | Y | Y |   |   |   |   |   |   |   |
Payroll (Australia only)
Payroll (Australia only)
|   | Administrator | Accountant/Bookkeeper | Banking | Cards | Inventory management | Payroll | Purchases | Sales | Time Billing |
| --- | --- | --- | --- | --- | --- | --- | --- | --- | --- |
| Enter Timesheet | Y | Y |   |   |   | Y |   |   | Y |
| Pay Employee (create a pay run, view pay details in the Pay Employee, Find Transactions (Payroll Category tab) and Transaction Journal (Payroll tab) windows) | Y | Y |   |   |   | Y |   |   |   |
| Pay Liabilities | Y | Y |   |   |   | Y |   |   |   |
| Pay Superannuation | Y | Y |   |   |   | Y |   |   |   |
| Payroll Categories | Y | Y |   |   |   | Y |   |   |   |
| Payroll Command Centre | Y | Y |   |   |   | Y |   |   |   |
| Payroll Easy Setup Assistant | Y | Y |   |   |   | Y |   |   |   |
| Prepare Electronic Payments | Y | Y | Y |   |   | Y | Y |   |   |
| Print Paycheques | Y | Y |   |   |   | Y |   |   |   |
| Print Payment Summaries | Y | Y |   |   |   | Y |   |   |   |
| Print/Email Pay Slips | Y | Y |   |   |   | Y |   |   |   |
| Superannuation Funds | Y | Y |   |   |   | Y |   |   |   |
Purchases
Purchases
 
Administrator
Accountant/Bookkeeper
Banking
Cards
Inventory management
Payroll
Purchases
Sales
Time Billing
In Tray
Y
Y
 
 
 
 
Y
 
 
Pay Bills
Y
Y
 
 
 
 
Y
 
 
Prepare Electronic Payments
Y
Y
Y
 
 
Y
 
 
 
Print Cheques
Y
Y
Y
 
 
Y
Y
 
 
Print/Email Purchase Orders
Y
Y
 
 
 
 
Y
 
 
Print/Email Remittance Advice
Y
Y
Y
 
 
 
Y
 
 
Purchases (create purchases, receive items and view purchase information in the
To Do List and Transaction Journal (Purchases tab) windows)
Y
Y
 
 
 
 
Y
 
 
Purchases Command Centre
Y
Y
 
 
 
 
Y
 
 
Purchases Register
Y
Y
 
 
 
 
Y
 
 
Report Taxable Payments (AU)
Y
Y
 
 
 
 
Y
 
 
Sales & Purchases Information (create and edit comments, shipping methods,
referral sources and payment methods)
Y
Y
Y
Y
Y
Y
Y
Y
Y
Settle Returns & Debits
Y
Y
 
 
 
 
Y
 
 
Reports
Reports
|   | Administrator | Accountant/Bookkeeper | Banking | Cards | Inventory management | Payroll | Purchases | Sales | Time Billing |
| --- | --- | --- | --- | --- | --- | --- | --- | --- | --- |
| Accounts | Y | Y |   |   |   |   |   |   |   |
| Banking | Y | Y | Y |   |   |   |   |   |   |
| Card | Y | Y | Y | Y |   | Y | Y | Y | Y |
| Custom | Y | Y | Y | Y | Y | Y | Y | Y | Y |
| GST / Sales Tax | Y | Y |   |   |   |   |   |   |   |
| Index to Reports | Y | Y | Y | Y | Y | Y | Y | Y | Y |
| Inventory | Y | Y |   |   | Y |   |   |   |   |
| Payroll (AU) | Y | Y |   |   |   | Y |   |   |   |
| Purchases | Y | Y |   |   |   |   | Y |   |   |
| Sales | Y | Y |   |   |   |   |   | Y |   |
| Time Billing | Y | Y |   |   |   |   |   |   | Y |
Sales
Sales
|   | Administrator | Accountant/Bookkeeper | Banking | Cards | Inventory management | Payroll | Purchases | Sales | Time Billing |
| --- | --- | --- | --- | --- | --- | --- | --- | --- | --- |
| Print Receipts | Y | Y | Y |   |   |   |   | Y |   |
| Print/Email Invoices | Y | Y |   |   |   |   |   | Y |   |
| Print/Email Statements | Y | Y |   |   |   |   |   | Y |   |
| Receive Payments | Y | Y |   |   |   |   |   | Y |   |
| Reimbursable Expenses | Y | Y |   |   |   |   |   | Y |   |
| Sales (create sales and view sales information in the To Do List, Find Transactions (Invoice tab) and Transaction Journal (Sales tab) windows) | Y | Y |   |   |   |   |   | Y |   |
| Sales & Purchases Information (create and edit comments, shipping methods, referral sources and payment methods) | Y | Y | Y | Y | Y | Y | Y | Y | Y |
| Sales Command Centre | Y | Y |   |   |   |   |   | Y |   |
| Sales Register | Y | Y |   |   |   |   |   | Y |   |
| Settle Returns & Credits | Y | Y |   |   |   |   |   | Y |   |
Time Billing
Time Billing
|   | Administrator | Accountant/Bookkeeper | Banking | Cards | Inventory management | Payroll | Purchases | Sales | Time Billing |
| --- | --- | --- | --- | --- | --- | --- | --- | --- | --- |
| Activities (create, view, edit) | Y | Y |   |   |   |   |   |   | Y |
| Activity History | Y | Y |   |   |   |   |   |   |   |
| Activity Log (view and enter activity slips, view activity log) | Y | Y |   |   |   |   |   |   | Y |
| Enter Timesheet (AU) | Y | Y |   |   |   | Y |   |   | Y |
| Prepare Time Billing Invoice | Y | Y |   |   |   |   |   |   | Y |
| Time Billing Command Centre | Y | Y |   |   |   |   |   |   | Y |