https://help.myob.com/wiki/x/OYuO
Close
How satisfied are you with our online help?*
Just these help pages, not phone support or the product itself
Very dissatisfied
Very satisfied
Why did you give this rating?
Anything else you want to tell us about the help?
You will receive an error like the following if you try to return more items than what is recorded in your AccountRight inventory.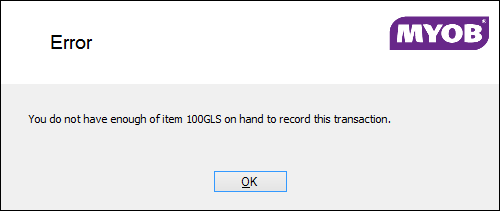 For example, if you have 7 glasses on hand that you want to return to the supplier, but AccountRight shows you having 6 glasses in stock, you will not be able to record that transaction.
How can I fix it?
Before you can record this transaction, you need to adjust your inventory.