https://help.myob.com/wiki/x/3Aiy
Close
How satisfied are you with our online help?*
Just these help pages, not phone support or the product itself
Very dissatisfied
Very satisfied
Why did you give this rating?
Anything else you want to tell us about the help?
If your computer is more than a few years old, start by checking the system requirements to see if it can run AccountRight.
Note that the information on this page refers to AccountRight 2011 or later. If you're using:

Fixing 'Setup failed' errors
If you've received the following error during installation, take note of the error code (as shown below) and follow the instructions for your code.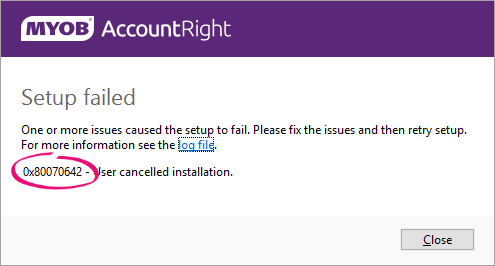 What's your error code?
Other installation issues
If your issue isn't covered above, all is not lost! See if your issue is covered here:
Still stuck?
We're always happy to help, just give us a call.
Australia - 1300 555 123 | Monday to Friday 7am to 8pm, Saturday to Sunday 9am to 5pm (Melbourne time)
New Zealand - 0508 328 283 | Monday to Friday 9am to 10pm, Saturday to Sunday 11am to 7pm (New Zealand time)