https://help.myob.com/wiki/x/3Aiy
Close
How satisfied are you with our online help?*
Just these help pages, not phone support or the product itself
Very dissatisfied
Very satisfied
Why did you give this rating?
Anything else you want to tell us about the help?
If your computer is more than a few years old, start by checking the system requirements to see if it can run AccountRight.
To find the info for your issue, work out how AccountRight is being installed:
Manually installing—this is where you've double-clicked a downloaded installation file to begin the installation.
Automatic update—this is where you haven't done anything but AccountRight has popped up a message about a failed update.
If you're seeing this message, restart AccountRight to ensure all pending updates are installed.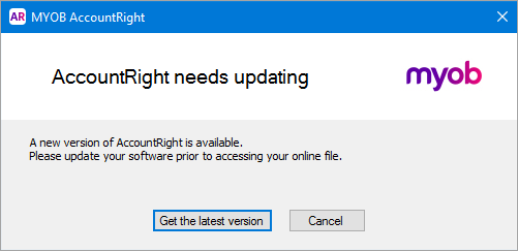 I'm having trouble manually installing AccountRight
If you're trying to install AccountRight Server Edition or you're installing AccountRight for the first time, here's some troubleshooting for some common issues.
Manual installation troubleshooting
Fixing 'Setup failed' errors
If you've received the following error during installation, take note of the error code (as shown below) and follow the instructions for your code.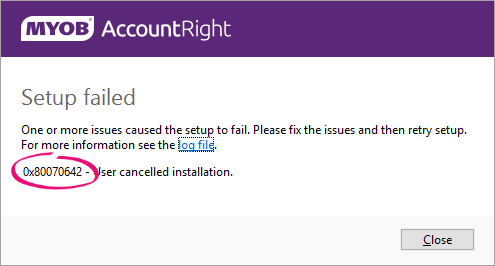 What's your error code?
Other installation issues
If your issue isn't covered above, all is not lost! See if your issue is covered here:
I'm having trouble with automatic updates
If you're using AccountRight PC Edition 2021.1 or later, AccountRight will automatically download and install any available updates. All you need to do is restart AccountRight when prompted to complete the update.
You can check your current version by going to the Help menu and choosing About MYOB AccountRight.
If AccountRight runs into any issues when downloading or installing an update, you might see an error like this:
Here are a few things you can try to sort it out.