https://help.myob.com/wiki/x/jYFW
Close
How satisfied are you with our online help?*
Just these help pages, not phone support or the product itself
Very dissatisfied
Very satisfied
Why did you give this rating?
Anything else you want to tell us about the help?
When you purchase an MYOB subscription, or you're invited to access another person's online MYOB software, you'll be prompted to set up an MYOB account. You'll need an MYOB account to access My Account and my.MYOB, where you can manage your subscription and business details.
Sign into your MYOB account
When you're prompted to sign in to your MYOB account, you'll need to enter the email address and password you specified when you set up your MYOB account.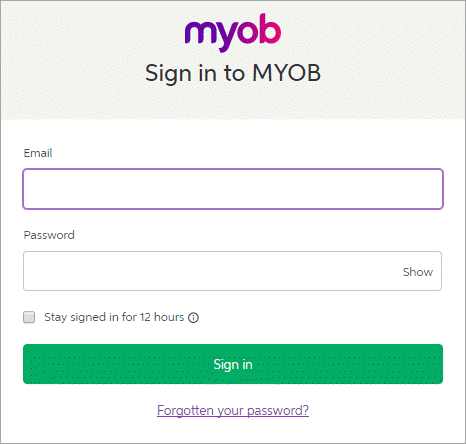 You'll use these same details to access My Account or sign in to your online files. You might also need to provide them when using bank feeds, paying super (Australia only), or using another AccountRight online service.
Manage your MYOB subscription in My Account
You can manage your MYOB account by signing into My Account (myaccount.myob.com). It's your self-service portal where you can:
View or change your MYOB subscription and payment details
View or pay your MYOB invoices
Cancel your MYOB subscription
Note that some account changes, such as updating your subscription or credit card details, require you to be the primary account contact for your MYOB subscription. This is typically the person who set up your MYOB subscription.
For all the details, see Your MYOB subscription and payment details
Manage your software, users and business details in my.MYOB
You may have previously used my.myob to manage your MYOB account, and we're moving many of these functions to My Account.
Until we put the finishing touches on My Account, there are still some things you can only do via the my.MYOB website.
To sign in, visit the my.MYOB website for your country. In Australia go to my.myob.com.au or in New Zealand, head to my.myob.co.nz.
Once you're signed into my.MYOB, here's what you can do:
Need some help?
If you need help accessing or managing your MYOB account, contact us and we'll lend a hand.