https://help.myob.com/wiki/x/OZmi
Close
How satisfied are you with our online help?*
Just these help pages, not phone support or the product itself
Very dissatisfied
Very satisfied
Why did you give this rating?
Anything else you want to tell us about the help?
This information applies to online company files in AccountRight 2016 and later (Australia only).
Get paid faster by giving your customers more convenient ways to pay you.
If you only offer cheque or direct deposit as your payment options, you risk customers putting off paying their invoices until they find time to do it, or they may even forget.
Online payments gives your customers easier and faster ways to pay you. They can pay you online using their VISA, MasterCard, AMEX or BPAY, and there are more payment options coming soon.
Check out the video to see what online payments can do for your business.
Getting started
Getting started
It's easy to set up online payments. Just make sure you're the business owner, and then click the Get set up button in the Sales window.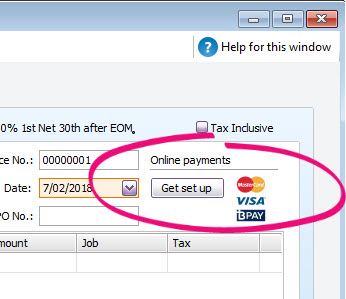 If you've been using Microsoft Outlook to send emails, an assistant will appear to help you set up AccountRight's own emailing feature and your payment options.
If you're already using AccountRight to send emails, rather than Microsoft Outlook, you'll be taken straight to the online payments merchant portal where you can log in with your MYOB account details and set up your banking details.
Sending an invoice
Sending an invoice
For each invoice you can choose whether to enable online payments for it or not.
Create your invoice as you usually do, and select the option online payments shown below.

Email the invoice to your customer.
Your customer clicks the automatically generated link that's in the email they receive, and their full invoice will appear online.
They can click the Pay Now button to make their payment on the spot.

Handling the payment in your company file
Handling the payment in your company file
When a customer makes a payment, the details will automatically be entered into your company file for you, and the invoice will be closed off.
Note that the individual payments you receive will be recorded in your Undeposited Funds account. You will need to clear the Undeposited Funds account regularly by preparing a bank deposit.
For example, say you receive three online payments on Monday. The payment details of each transaction will be listed in your Undeposited Funds account. MYOB will deposit the total of the three payments overnight into your bank account as one lump sum. So on Tuesday, you would prepare a bank deposit in your company file that includes the three payments, and that matches the deposit transaction that will appear on your bank feed and bank statements.
Online payments FAQs
Can invoices created using MYOB Invoices, or another add-on, be paid online?
Can invoices created using MYOB Invoices, or another add-on, be paid online?
If you email invoices from MYOB Invoices, or an invoicing add-on, your customers won't be able to pay them online (but we're working on adding this feature).
In the meantime, here's what you can do: Enter your sales using MYOB Invoices or your add-on, and later open them in AccountRight, click the Online payments option, and email them using AccountRight.
Can customers pay multiple invoices at once?
Can customers pay multiple invoices at once?
Customers can pay multiple invoices in one go through their list of unpaid invoices. All they need to do is select the invoices they wish to pay and click the Pay invoices button below.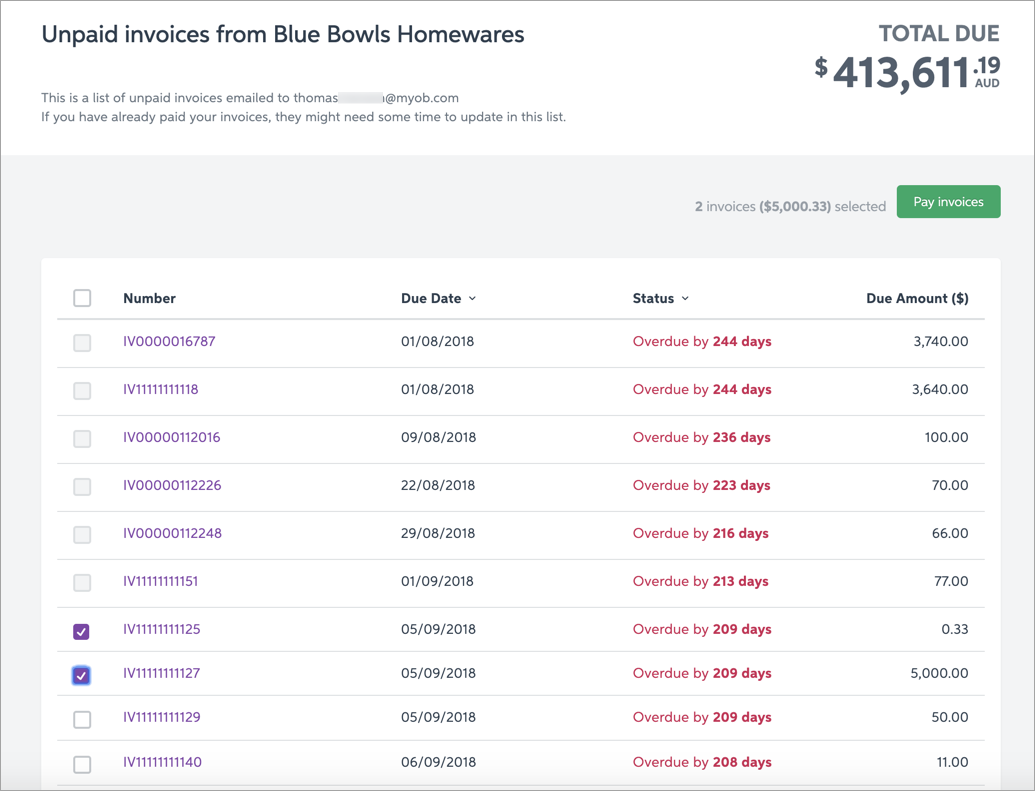 The total amount of invoices selected cannot exceed $99,999.
There are two ways they can access this list:  
Through their monthly statement of unpaid invoices






Through a reminders email