https://help.myob.com/wiki/x/KQBy
Close
How satisfied are you with our online help?*
Just these help pages, not phone support or the product itself
Very dissatisfied
Very satisfied
Why did you give this rating?
Anything else you want to tell us about the help?
AccountRight Plus and Premier, Australia only
If you're registered for Single Touch Payroll (STP), there's no need to prepare payment summaries so we've removed that option from the Payroll command centre. If an employee needs a copy of their income statement (payment summary), they can access these details through myGov. Visit the ATO for more information.
Stay compliant by using the latest AccountRight version, and see how we've simplifed your end of payroll year.
If you're registered for STP but you need to complete a payment summary (confirm with the ATO if you're not sure), you'll need to complete a manual payment summary for the employee using forms available from the ATO.
The Company Information step of the Payment Summary Assistant is where you let the ATO know what your contact details are. If they need to ask questions about what you submit, they'll contact you using the details you enter here. Some of this information will also appear on the payment summaries.
Most of the information is filled in for you, based on what you've entered in the Company Information window (Setup menu), but you can enter different details if required.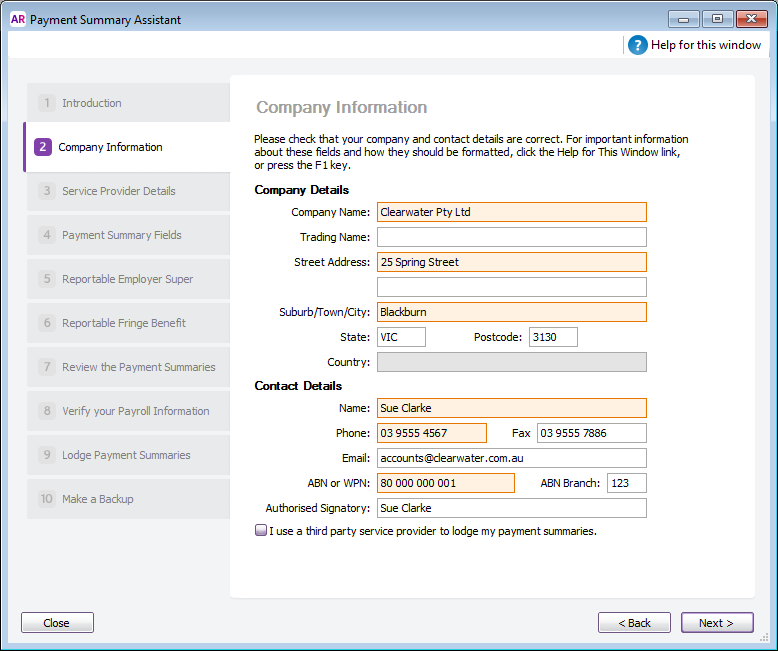 State codes
State codes
In the State field, you must enter one of the following two- or three-character codes:
ACT - Australian Capital Territory

NSW - New South Wales

NT - Northern Territory

QLD - Queensland

SA - South Australia

TAS - Tasmania

VIC - Victoria

WA - Western Australia
Overseas addresses
Overseas addresses
If your company is a non-resident and has an overseas address, enter OTH in the State field:
The Country field is activated. You must enter your company's country information in this field.
The Postcode field defaults to 9999 and cannot be changed.
The state and postcode as well as the town must all be reported in the Suburb/Town/City field.
For example, assume your address is 275 Central Park West, Apartment 14F, New York, NY USA 10024. This address would be entered as follows:
Street Address - Line 1: 275 Central Park West
Street Address - Line 2: Apartment 14F
Suburb/Town/City: New York, NY 10024
State: OTH
Postcode: 9999
Country: USA
Authorised signatory
Authorised signatory
If you have approval from the ATO, you can also specify an authorised signatory in this window; this person's name will appear in the "Signature of Authorised Person" area on your employees' Payment Summaries.
Will a third party lodge the payment summaries for you? Will you be lodging the payment summaries on behalf of another business?
The ATO may need to contact the party that actually lodges the payment summaries. Click the I use a third party service provider to lodge my payment summaries option in this step of the assistant and then enter the service provider details.
Next steps
If you'll be lodging the payment summaries for your own business, your next step is to set up the payment summary fields.
If a third party service provider is lodging the payment summaries, first enter the service provider contact details.