https://help.myob.com/wiki/x/VaEHAQ
Close
How satisfied are you with our online help?*
Just these help pages, not phone support or the product itself
Very dissatisfied
Very satisfied
Why did you give this rating?
Anything else you want to tell us about the help?
Known issue
By default, the Sales Register is sorting by Date then by Cust PO No (instead of Date then Invoice No). This will be fixed in a future update. In the meantime, sort the list by clicking a column heading.
The Sales Register is accessible from the Sales command centre. This window lists all your sales transactions for one or all customers and date range.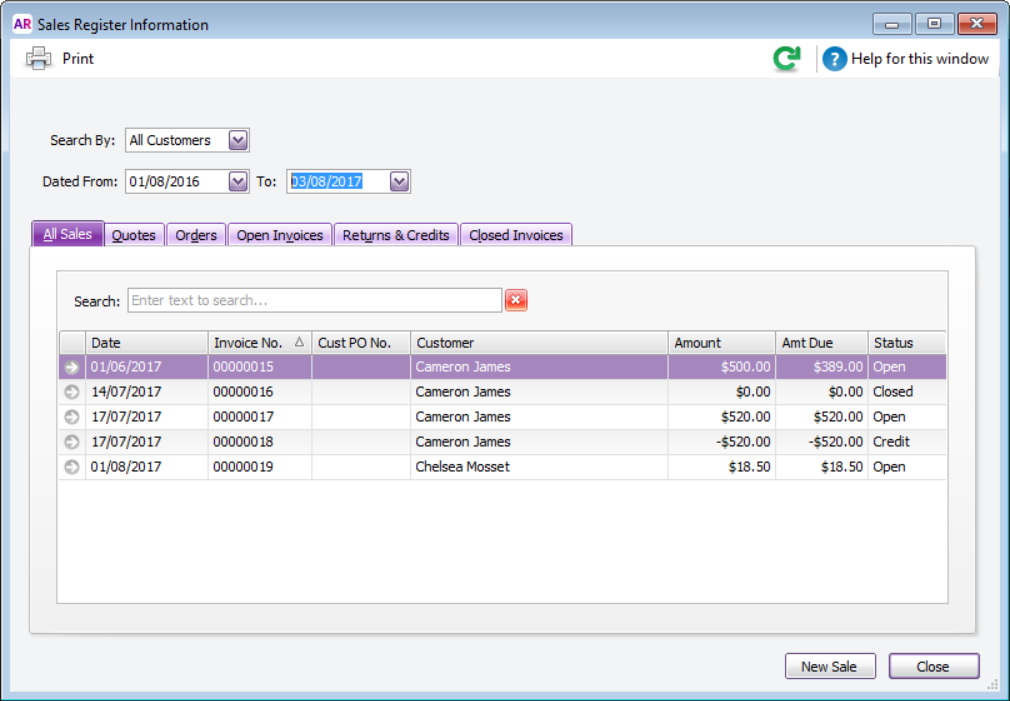 Here's what you can do in the Sales Register:
Task
Steps
Learn more

View open and closed invoices, quotes, orders and returns and credits

Click the applicable tab based on what you're looking for.
In the Search By field, select one or all customers.
Specify a date range.
(Optional) Enter text to search in the Search field.

Finding a transaction
Print the sales currently displayed in the Sales Register (quotes, orders, invoices, etc.)

Click the applicable tab and filter the list as required.
Click Print. The Sales Register Detail report displays.
Print or export the report as required.

Sales reports
Delete a sale

Open the sale.

Go to the

Edit

menu and choose

Delete Sale

.

Deleting a transaction

Change the status of a sale

Click a quote or order.

Click

Change to Order

or

Change to Invoice

.

Changing a sale's type
Record a customer payment

Click an order or open invoice.
Click Receive Payment.

Receiving payments

Apply a customer credit to a sale or offer a refund

Click a credit on the Returns & Credits tab.

Click

Pay Refund

or

Apply to Sale

.

Settling customer credits
Create a new sale

Click

New Sale

,

New Invoice

,

New Quote

or

New Order

on the applicable tab.

Enter an invoice, quote or order

Create a purchase order from an order or quote

Click the quote or order.

Click Create PO.

Creating a purchase order from a sale
adjust the displayed columns

Change the column order by clicking a column heading and dragging it to a new position.
Change the column width by clicking and dragging the edge of a column heading left or right.