https://help.myob.com/wiki/x/WyLnAQ
Close
How satisfied are you with our online help?*
Just these help pages, not phone support or the product itself
Very dissatisfied
Very satisfied
Why did you give this rating?
Anything else you want to tell us about the help?
Online company files only
Get money in your pocket faster by automatically notifying your customers to pay their invoices. If you email directly from AccountRight, this is a great way to gently remind your customer to pay you. You can also set up unpaid invoice summaries to send your customers a monthly summary of unpaid invoices.
We'll show you how to set up invoice reminders for all or selected customers, and how to customise the reminder frequency. Also, find out what invoice reminders will look like to your customers.
Turning off invoice reminders
To turn off invoices reminders, go to the Invoice Reminders window (Sales > Invoice Reminders or Setup menu > Preferences > Emailing tab > Invoice Reminders) and deselect Send invoice reminders: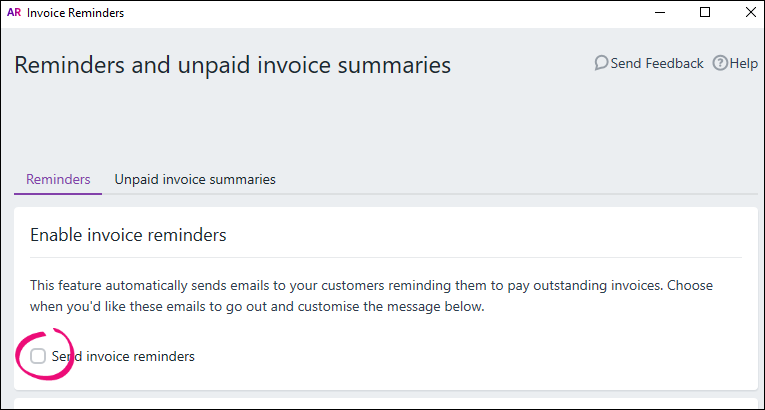 FAQs