https://help.myob.com/wiki/x/rYmTBQ
Close
How satisfied are you with our online help?*
Just these help pages, not phone support or the product itself
Very dissatisfied
Very satisfied
Why did you give this rating?
Anything else you want to tell us about the help?
If you sell online, you now have the ability to sync your online sales data into MYOB Business by connecting with Amaka.
Amaka integrates with a range of e-commerce providers such as Shopify, Bigcommerce, Squarespace, WooCommerce and eBay, as well as POS providers such as Square and Vend. This enables you to sync your online sales, payment and tax information from these providers into MYOB Business daily. 
Amaka also updates your stock-on-hand data in MYOB Business through its Inventory Sync feature (only available with the Amaka's Shopify + MYOB integration). 
These integrations allow you to sell through multiple channels with a central record of sales in MYOB Business.
How it works
Amaka offers a number of data sync features:
Sales Sync
The sales integration syncs your sales data into your MYOB Business file.

When you set up Amaka, you need to choose your provider and your MYOB Business file within the Amaka dashboard, before setting account mapping for all sales, payment and taxation information.

Your data, your style - choose whether you'd like to have your daily transactions summarised into a single invoice or in separate invoices per transaction. You can also select whether you'd like to have your invoices broken down on a location-by-location basis.

Bills are automatically created in MYOB Business to reflect any third-party fees.

You can select the desired date you'd like to start your integration sync and also time you'd like it to run.
Inventory Sync
Shopify + MYOB only
Through a daily sync, the integration will create inventory adjustments to maintain alignment of stock-on-hand values across products in Shopify + MYOB.
This will handle sales and refunds that occur within Shopify across each day of trade.
If you're not using Inventory Sync, you'll need to manually enter inventory adjustments in MYOB Business when you sell products in your platform.
COGS Sync
Through a daily sync, the integration will create a journal entry in order to record your cost-of-goods sold expense and inventory account (on a dollar-value).
The COGS sync has been designed to function in conjunction with or independent to the above modules.
Easily reconcile customer payments
Automatically sync data from your POS or e-commerce provider into MYOB daily via bank feeds, fast-tracking your reconciliation process. To get the full benefits of automated reconciliation, set up rules to identify your customer payments and match or allocate them in MYOB Business.
Already have online sales? No problem, with Amaka you can back-date your data synchronisation and generate sales summaries for your previous online sales.
Get e-commerce performance insights
Make informed decisions by using MYOB Business sales reporting to assess the performance of your online business. Your reports use up-to-date data synced daily from Amaka's integration.
Support
Get unlimited support from Amaka's 5-star rated Integration Experts.
Schedule a 30-minute session with Amaka's CPA-trained, MYOB certified support team for onboarding and ongoing assistance. Support channels extend from personalised Zoom sessions, live chats and help desk ticketing.
Pricing
Amaka's integrations are typically offered under a freemium pricing model (the first integration and some basic features are free to use, additional integrations and advanced features are available for a fee).
For premium integrations, Amaka offers a 14-day free trial - allowing you to find a solution that fits your need before committing to purchase.
Note: the following Amaka integrations are offered completely free-of-charge given Amaka's commercial partnership with the app providers: Square, Foodbomb, Vend and Dash.
Get started
Learn more about connecting Amaka with your MYOB Business. When you're ready to start your free integration, you'll be guided through setting it up.
We recommend you create products you intend to sell online in your e-commerce platform, especially if you have variants of products (for example, different colours or sizes). If you add products in Shopify, you can track the sales of these variants:

When you create products in Shopify, they're added to MYOB Business inventory at the next data synchronisation. If you're using Inventory Sync (Shopify + MYOB only), Amaka will try to match Shopify Products to those in MYOB Business. If the Inventory Sync can't find a match, it will create a new product in MYOB Business for tracking its stock-on-hand.
FAQs
Do I need to set anything up in MYOB Business to use Amaka?
Do I need to set anything up in MYOB Business to use Amaka?
It's easy to set up an integration with Amaka – you can do it in a few clicks using the 'Express Setup'. However, you should check that you've set up the following features in MYOB Business to get the full benefits of this solution:
Customers and suppliers – check that you've created your customer and supplier records so you don't need to enter these each time you buy or sell.

You can speed up getting paid by giving customers an easy way to pay your invoices online – see Online invoice payments.
Bank feeds– if you want to reconcile your online sales automatically, you'll need to have set up bank feeds and linked your bank feed to the MYOB Business account you'll use to track your online sales.

Accounts

– i

f you choose the Express Amaka setup, you won't need to create any new accounts in MYOB Business to track your sales – Amaka will create default accounts in MYOB Business to map sales and payments from your e-commerce:

If you choose the Advanced

Amaka setup (recommended for accountants and bookkeepers), which allows you to choose your own custom sales and payments mapping, you may need to

create accounts

in MYOB Business.
What does it cost to use Amaka?
What does it cost to use Amaka?
You can activate one Amaka integration with basic account mapping features under Amaka's free pricing tier. If you want to set up more integrations, or to unlock premium features, you have to upgrade to the Premium tier, for which there's a fee. For more information on pricing, visit this website.
How often is my data synchronised from Amaka?
How often is my data synchronised from Amaka?
Your e-commerce data is synchronised with MYOB Business daily. The time your data is synchronised depends on the time and date you choose in the Amaka Scheduler: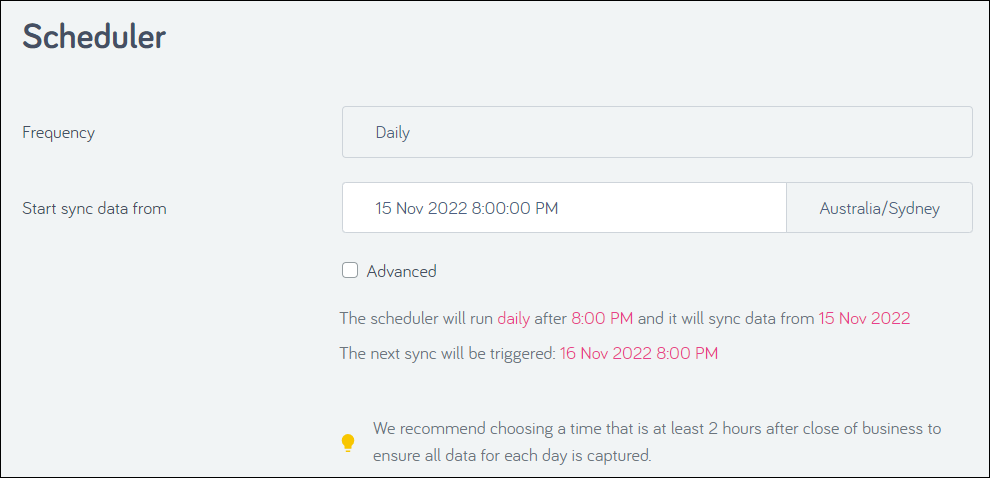 For more information, see Amaka help.
Can I sync sales data from previous trading days?
Can I sync sales data from previous trading days?
Of course! Amaka offers a single day historical sync under the free pricing tier. If you want to sync sales data from additional trading days, you can backdate the scheduler to sync up to 12 months' worth of historical data (Premium only). For more information, please contact Amaka's support team to learn more.
Can I turn off Amaka?
Can I turn off Amaka?
Yes, at any time you can go to the Amaka dashboard and disable an integration by either turning it off or deleting it entirely. For more information, see Amaka help.