https://help.myob.com/wiki/x/exCjBQ
Close
How satisfied are you with our online help?*
Just these help pages, not phone support or the product itself
Very dissatisfied
Very satisfied
Why did you give this rating?
Anything else you want to tell us about the help?

How can we support your payroll?
End of payroll year
Finalise payroll and STP
These instructions are for MYOB Business in the browser. For desktop help, see the AccountRight EOPY tasks.

At the end of the payroll year (EOPY), all you need to do is finish paying your employees for the year, check your payroll data and finalise STP with the ATO.
Learn more about end of payroll year
Payroll errors and issues
Fix a pay
I'm getting an error
Adjust leave accruals
Returned super contributions
Check if a pay is correct
Get started with payroll
How does payroll work?
Set up your employees
Do your first pay run
Key points
First set up your employees. Use self-onboarding to make it easy for everyone.
Choose what to include in pay runs. Set up pay items

to cover things like wages, allowances, leave and super and customise for each employee.

Pay cycles determine which employees are included in a pay run.
When you do a pay run, you can add leave or adjust hours and amounts in an employees pay.
You can make super payments and report via STP directly from your software
More resources
Payroll obligations and compliance
Know the rules to meet your obligations
FAQs
There's been a legislation change and I don't know what it means
Most changes that affect your payroll come from the ATO. They make the rules and we update our software to help you stay compliant.
When there's a legislation change, like updated tax tables for a new payroll year, we'll build this into your MYOB. This means you don't have to worry about it.
If you want more information about a specific legislation change that impacts your payroll, we'll typically provide help content for it. You can search our help at help.myob.com
If you're not sure how a legislation change impacts your business, we recommend speaking to an accounting advisor. Or go straight to the source and contact the ATO, or search their website.
How do I stay on top of superannuation rate changes
There's a setting in MYOB that takes care of this for you. The Superannuation Guarantee pay item looks after your employees' super guarantee contributions, and it controls how they're calculated.
If the Calculation basis is set to Minimum required rate, you can relax knowing your employee's super will always be calculated at the current, correct rate.
Learn more about staying compliant with super guarantee rate increases.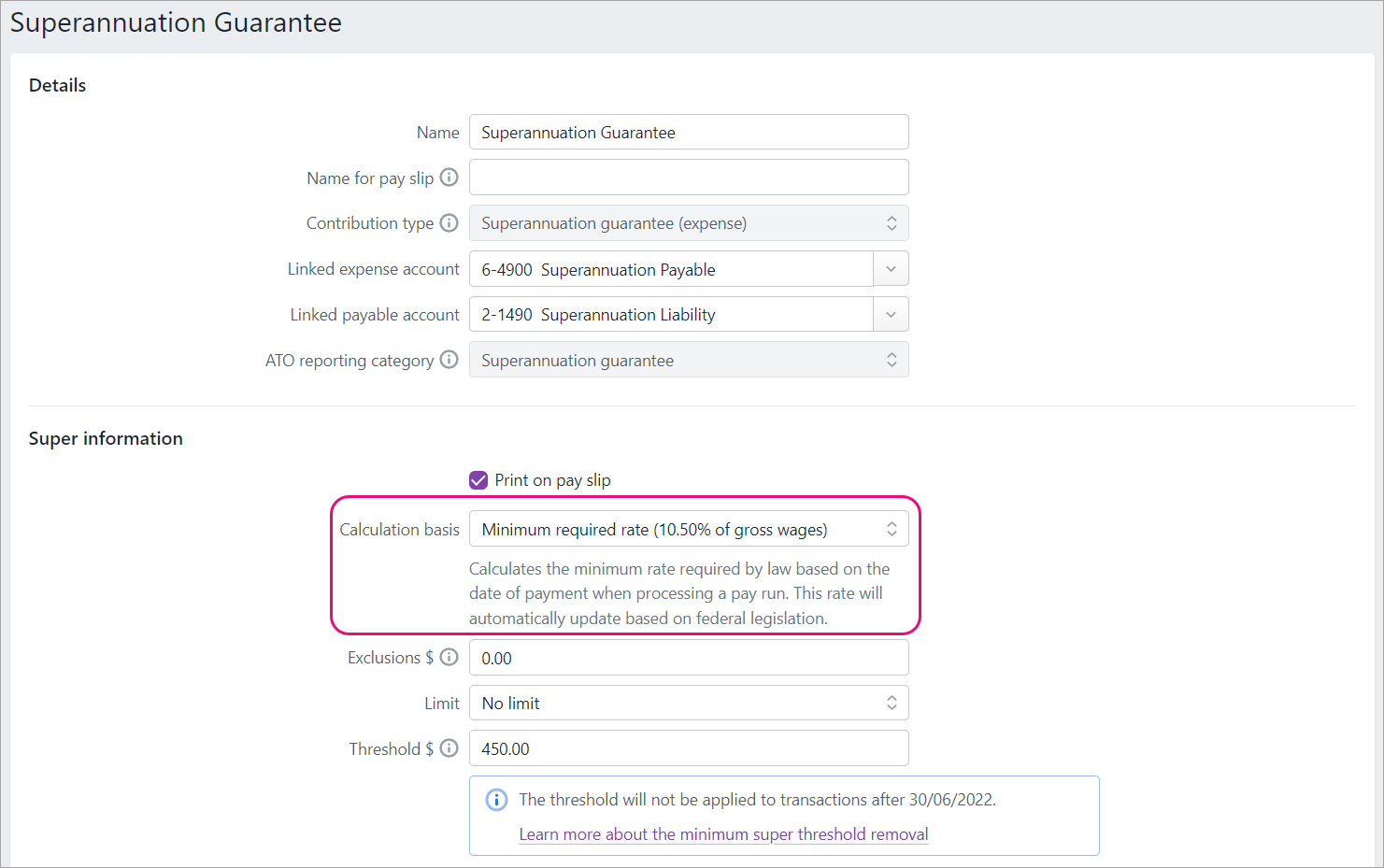 How do I know if I'm complying with the ATO's requirements for STP?
When you set up STP in MYOB, all your payroll details are checked to make sure they meet the ATO's requirements. If anything is wrong or missing, you'll be advised so you can fix it.
Once you're set up, the payroll details are checked each time you do a pay run – just in case you've added or changed anything.
Sending your payroll details to the ATO is just part of running your business. MYOB makes it easy to stay compliant by making sure your payroll information is complete and in the right format.
Get advice from an expert
We can tell you how to use your MYOB software, but we can't tell you how to run your business.
For the stuff we can't tell you, here's where you can find answers:
Still need help with payroll?

Help Centre
Find technical support and help for all MYOB software in the Help Centre.

Community forum
Ask a question to our community of users, accountants and bookkeepers.

MYOB Academy
Get the most out of your software with our MYOB training courses.