https://help.myob.com/wiki/x/-aRqAg
Close
How satisfied are you with our online help?*
Just these help pages, not phone support or the product itself
Very dissatisfied
Very satisfied
Why did you give this rating?
Anything else you want to tell us about the help?
The Bank transactions page lists the bank and credit card transactions that have been brought into MYOB via bank feeds or by importing a bank statement.
For each bank or credit card transaction on this page, you need to either:
match it to an existing MYOB transaction (or bank transfer)
or
allocate it to one of your MYOB accounts.
Did you know you attach documents to your bills and spend money transactions in MYOB? This reduces manual data entry when entering bank transactions, and keeps track of important documents. 
Looking for a list of transactions for an account? Run the General ledger report.
What to look for
When you match or allocate a transaction, you're identifying whether or not it has been entered in MYOB. You should check for:
Transactions already entered in MYOB (e.g. invoices and bills, or payments like Spend Money and Receive Money transactions). You should match these bank transactions to the corresponding MYOB transaction. See Matching bank transactions.
Transactions not entered in MYOB (e.g. bank charges, bank interest, cash withdrawals or deposits). You should allocate these bank transactions to the appropriate MYOB account. See Allocating bank transactions.
If you have regularly occurring bank transactions that always have a particular description (such as a transaction containing the text BANK INTEREST), you can set up rules to manage them. The next time these transactions are received or imported, MYOB will allocate them automatically to an account you choose. For more details, see Creating rules.

Transfers between bank accounts. If you've transferred money between two of your bank accounts, MYOB can match the two bank transactions, even if you haven't entered a bank transfer transaction into MYOB. You should confirm that this match is correct. See Transferring funds from a bank transaction.
FAQs
How often will I receive bank feeds?
How often will I receive bank feeds?
How often your bank feeds are updated depends on your bank. Search the list of supported banks and their feed frequency (Australia | New Zealand).
If bank feeds are not appearing within your bank's specified feed frequency, contact us so we can look into it.
What keyboard shortcuts are available on the Bank transactions page?
What keyboard shortcuts are available on the Bank transactions page?
There's a range of keyboard shortcuts available to help make allocating transactions faster. To reveal these shortcuts, press CTRL and / (PC) or CMD and / (Mac) simultaneously.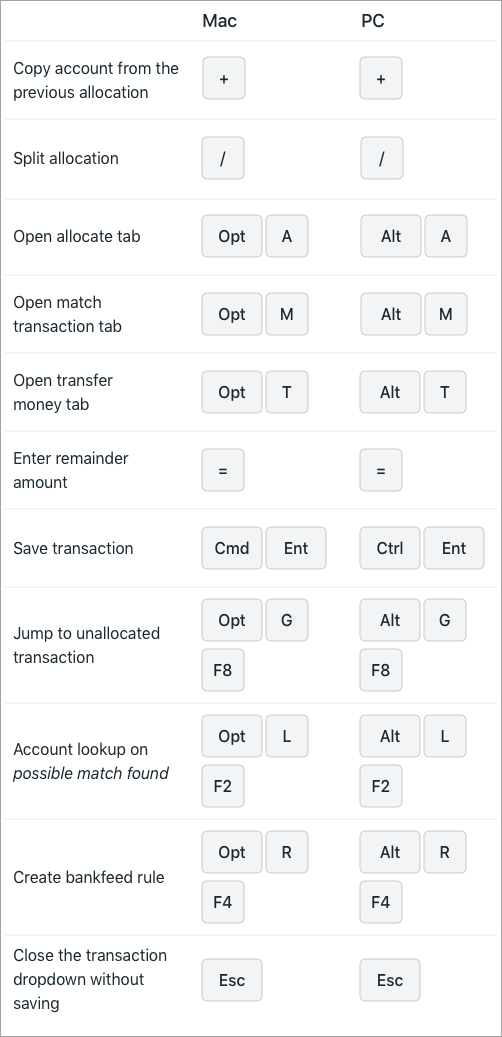 Why are some dates on my bank feed different to my bank statement?
Why are some dates on my bank feed different to my bank statement?
The dates on bank feeds can vary to the dates on your bank statement due to the difference between the transaction date and the date the transaction was processed by your bank. This usually occurs due to weekends and public holidays which delay the bank processing.
This means a transaction made on a Saturday may not be processed until a Tuesday. The transaction will then come through on Wednesday's bank feed with Tuesday's date. The bank will subsequently adjust the date to show on your statement as the actual transaction date.
This leaves your bank feed transaction dated for Tuesday, but on your bank statement it shows with Saturday's date. Although transactions are still able to be allocated and matched normally, this date discrepancy could pose some reconciliation challenges when they occur on either side of a month, quarter or a financial year.
If you need help working out the best way to handle these discrepancies, check with your accounting advisor (Australia | New Zealand) or contact product support.
Can I delete bank feed transactions?
Can I delete bank feed transactions?
We recommend contacting product support to discuss your options.
Live Chat

You can start a chat session from the Contact Us page of the MYOB website (look for the chat button at the bottom of the page).

Can't see the chat button? If you're using an ad blocker on your web browser, this might be stopping the chat button appearing. Otherwise it probably means our support team are swamped and can't start any new chats. Try again later, or call us.

Submit a support request

If you have access to 

My Account

, log in at myaccount.myob.com and click 

Contact support

.

Call support

Visit the contact us page of the MYOB website for phone numbers.