https://help.myob.com/wiki/x/PAKyB
Close
How satisfied are you with our online help?*
Just these help pages, not phone support or the product itself
Very dissatisfied
Very satisfied
Why did you give this rating?
Anything else you want to tell us about the help?
Welcome to the MYOB PayGlobal Single Touch Processing (STP) Phase 2 Customer Guide.
This guide assumes that:
You are a 'supervisor' user who can run the STP Phase 2 procedure.
You are on version 4.59 or later.
This manual summarises:
STP Phase 2 compliance.
What the change means for you and the action you need to take
2021-22 STP Phase 2 tasks.
Contents:
What is STP Phase 2?
STP Phase 2 is an expansion on the role the Australian Tax Office (ATO) plays in collecting and administering information from employers on behalf of other government agencies such as Services Australia.
STP Phase 2 is a result of the Treasury Laws Amendment (2020 Measures No.2) Bill 2020.
The intent is to simplify reporting obligations for employers. For example, you will no longer need to send an Employment Separation Certificate to Centrelink.
The Australian government expect that the government agencies now involved with using STP data will be able to respond more quickly in their services.
As a Digital Service Providers (DSPs), or payroll software providers, MYOB PayGlobal is obligated to support the new version of the STP payload now required by the ATO.
The mandatory start date for STP Phase 2 reporting is 1 January 2022.
This page uses the term STP v5. This is in reference to the ATO's new STP 2020 service, which is the service that supports STP Phase 2.
For more information, see Single Touch Payroll Phase 2 employer reporting guidelines on the ATO website.
What are the key changes?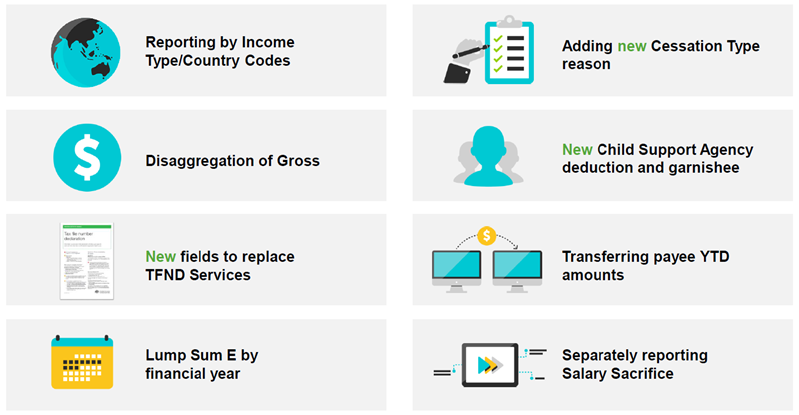 Details of the PayGlobal STP Phase 2 Changes
What do I need to do?