https://help.myob.com/wiki/x/BwCs
Close
How satisfied are you with our online help?*
Just these help pages, not phone support or the product itself
Very dissatisfied
Very satisfied
Why did you give this rating?
Anything else you want to tell us about the help?
Australia only
Before you begin:
Ensure you have the following details:
Australian Business Number (ABN)
Business bank account details
Photo ID
Our friendly customer support team may contact you if any further information and relevant documentation is required.

Getting started
To set up online payments, you'll need to complete a few steps within our merchant portal.
How you access the merchant portal depends on your product.


Accessing from AccountRight
Click the Get set up button in the Sales window. Note that you must be the business owner to set up online payments.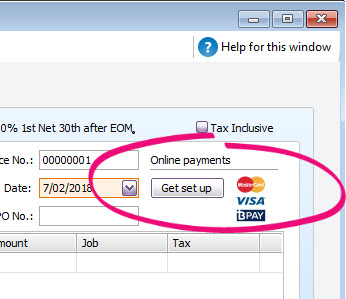 Accessing from MYOB Essentials
To access the Merchant Portal from MYOB Essentials, go to the  Invoice and quote settings  page > Payment options tab and then click Set up online payment options.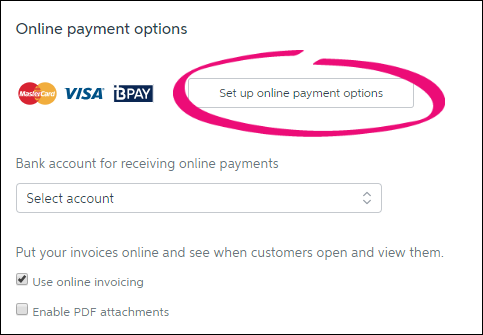 Click Start Application.

When prompted, enter your applicable banking and business details, including your ABN, business name and contact details.


Follow the prompts and complete the rest of the signup form. You'll then receive an email to confirm that the application has been received.

With your setup complete, a Pay now button will now appear on every invoice you send once you have been approved by our merchant services. You'll be notified when this approval is complete.
FAQs
Why isn't the application form displaying correctly?
If you see a blank page, or the application form doesn't display correctly, try these suggestions:
Go to http://secure.myob.com, and check the email address that's displayed. If the email address:

doesn't match the address you use to sign into AccountRight, click Sign Out, and start the application process again using the correct email address.
matches the address you use to sign into AccountRight, click Sign Out and close your AccountRight file as well. Reopen your company file and start the application process again.

If you're using Internet Explorer, make sure you're using v11, or use a different browser (copy the URL from the address bar).
Use a different browser. Copy the URL from your browser's address bar, and paste it into a different web browser.
If the page still doesn't display, please call MYOB Support on 1300 555 151.