HTML Wrap
HTML
<span data-swiftype-index="true">
HTML Wrap
UI Text Box
From 14 January 2020, Microsoft will stop providing support and security updates for Windows 7 and Windows Server 2008 R2. If you use one of these Windows versions, we recommend updating as soon as possible.
MYOB will continue supporting our software on these operating systems until 31 March 2020. For more information, visit the community forum.
Like any other tech company, MYOB focuses its development and support on the newer versions of its products.
But we know many of our users like their old and trusty software and sometimes need to download an installer for it.
To download older AccountRight versions, visit myob.com/downloads
Important announcement about AccountRight v19
As of 30th September 2019, MYOB will no longer provide features, patches, compliance updates or product support for your MYOB AccountRight Classic (v19) desktop software.
Read more: Australia | New Zealand
What versions of AccountRight does MYOB support?
To see what versions of AccountRight and other software MYOB currently receive phone-based support, see:  Australia | New Zealand.
Looking for v19 online help?
Go to help.myob.com and select AccountRight v19.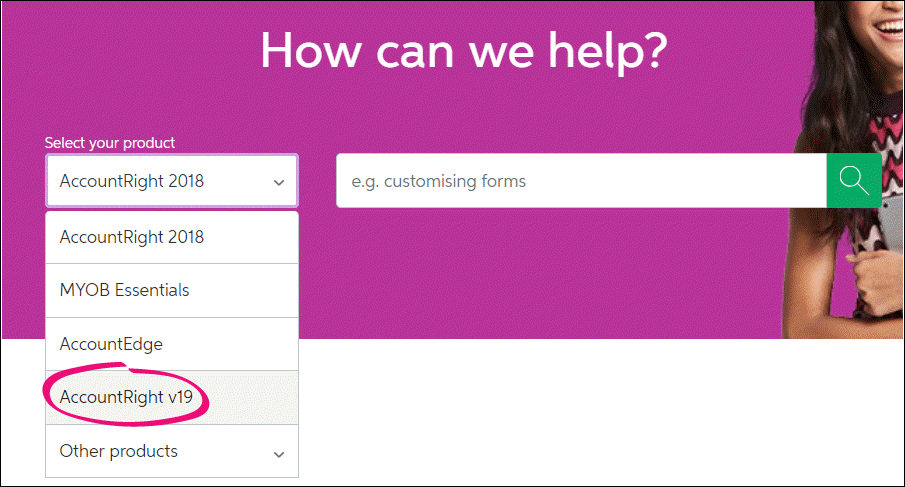 Want upgrade information?
See:
HTML Wrap
| | |
| --- | --- |
| width | 15% |
| class | col span_1_of_5 |
HTML Wrap
| | |
| --- | --- |
| float | left |
| class | col span_1_of_5 |
Panelbox
| | |
| --- | --- |
| name | magenta |
| title | Related topics |
Panelbox
| | |
| --- | --- |
| name | yellow |
| title | From the community |
RSS Feed
| | |
| --- | --- |
| titleBar | false |
| max | 5 |
| showTitlesOnly | true |
| url | http://community.myob.com/myob/rss/search?q=download+old+accountright+version&filter=labels%2Clocation&location=category%3AAccountRight&search_type=thread |