HTML Wrap
HTML Wrap
Australia only
When you add a tax agent, a Software ID will display. You'll need this number to authorise MYOB to transmit lodgments to the ATO for the new agent.
UI Text Box
You need to authorise MYOB for tax lodgments even if you have previously authorised MYOB for other ATO related services, such as for STP reporting using MYOB Essentials or AccountRight. 
You can authorise MYOB in two ways: by phone, or online using the ATO's Access Manager. Follow the instructions below, or see the ATO's help page.
UI Expand
 Make sure you have the agent's Software ID handy, and call the ATO on 1300 852 232.
UI Expand
Log in to the ATO's Access Manager (https://am.ato.gov.au/).


Click My hosted SBR software services in the left-hand menu.




Click Notify the ATO of your hosted service.




Type "MYOB" in the service provider name field, then click Search.




Click the ABN link for MYOB AUSTRALIA PTY LTD.


Paste or type your Software ID in the Add Software IDs field and click Next.




Click Save.
UI Text Box
Need to reauthorise?
If you've forgotten the Software ID that appeared when you set up your agent details, or you need to re-authorise MYOB, here's how to get a new your ID:
Click Settings on the Tax page, click the [...] icon next to the agent and choose Show ID.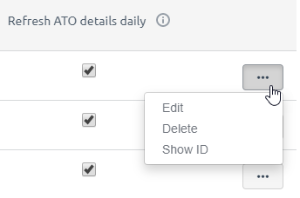 Note: This ID changes every time you show it. If you select the Show ID option after you've authorised MYOB, you'll need to reauthorise MYOB by phone or online. 
HTML Wrap
| | |
| --- | --- |
| width | 15% |
| class | col span_1_of_5 |
HTML Wrap
| | |
| --- | --- |
| float | left |
| class | col span_1_of_5 |
Panelbox
| | |
| --- | --- |
| name | magenta |
| title | Related topics |