There's a few set up tasks you need to perform to give your practice the full function and experience of Client Accounting.
To use MYOB LedgerBefore you jump into Client Accounting, make sure you've set up Client Accounting for your practice.
Installing and licensing was only one part of the initial setup. To make sure you're able to use the full functions and benefits of Client Accounting, you'll need to :
Enable the MYOB ledger function

Provide your staff with access to cashbook.
To use AccountRight Classic ledgers with Client Accounting, you'll need to:
Specify the location of your AccountRight version 19 (or earlier) program.
Additional tasks to prepare your practice:
Set up Security and Task Permissions

Customise your report according to your practice's needs.
Pre-configuration checklist
Practice MYOB Logins

 have been set up.

You're logged in to AE or AO with your MYOB login.

You have the login credentials of an Administrator user in the file.

If you're configuring a Trust or Partnership, your 

chart of accounts are prepared

.

You have the correct version of AccountRight for the client's company file installed. If you've installed the AccountRight application to a location other than the default, check your Accounting Product Locations to ensure Client Accounting knows where to find the application.
configure your Client Accounting Settings.
The Client Accounting Settings can be accessed via the Maintenance Map of your Accountants Office (AO) or Accountants Enterprise (AE) software. In these settings, you'll enable MYOB ledger and enter the location of any AccountRight Classic programs you have installed.
Almost everything you need to prepare your practice for Client Accounting is available in the Maintenance Map of Accountants Office (AO) and Accountants Enterprise (AE).
In this workflow, we'll show you how to configure your Client Accounting Settings and some additional tasks such as how to secure your client's data.
UI Text Box
These tasks require Administrator permissions.
To perform these tasks, make sure you're logged into AE or AO as an Administrator or Super User.
...
your Client Accounting Settings
From

within

AE
...
or

AO, click the

Maintenance

menu and
...
...
.

On the

TASKS

bar, click

Client Accounting
...
. The

Client Accounting

page appears.

Click

Client Accounting settings

. The

Client Accounting

Settings

window appears

.
For each accounting product to be used:
...
Click the ellipsis

Image Removed.
Click

Enable AO/AE Ledger and Assets

. A message appears, confirming that the ledger is enabled.




If you have any AccountRight Classic (version 19 or earlier) software installed, enter program location in the relevant fields. You can use the ellipses (Image Added) buttons to browse to the installed location and select the myob.exe or myobp.exe file for the installed version.
...
Click Open.
(need an updated screenshot)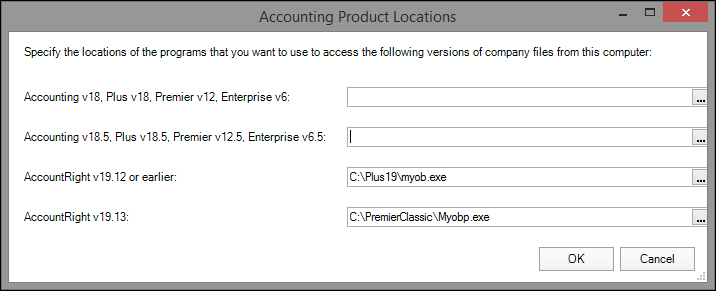 Image Removed
...
UI Text Box

By default, AccountRight Classic is installed to the C:\ drive of the computer where the installation has been run. The AccountRight Classic install is a client-only install, meaning that there is no separate server and workstation components to be installed.

To apply the changes click

OK

to this window, then log out of AO or AE, and log back in.
UI Expand
| | |
| --- | --- |
| expanded | true |
| title | To give employees access to MYOB Ledger |
Head to the cashbook website for Australia or New Zealand.

Enter your practice MYOB login credentials.

If required, enter your two-factor authentication code.

Click the name of your practice in the top right.

Click Manage firm users.

For each employee that you want to give access, click the button in the Access column so that it says ON.

Log out or close the web browser.