HTML Wrap
HTML Wrap
Cashing out annual leave is where an employee is paid the value of annual leave instead of taking the time off work.
UI Text Box
Check the rules!
There are certain rules and regulations that govern the cashing out of annual leave, so first check with the appropriate regulatory body about the rules that affect you. A good place to start in Australia is the Fair Work Ombudsman or in New Zealand visit the Employment Relations website.
To cash out annual leave in MYOB Essentials, just include the number of hours of annual leave the employee is cashing out on their pay run, in addition to their normal pay. This will decrease their leave balance, and pay them the value of the annual leave.
For example, if an employee is cashing out 20 hours of annual leave, during a week they've worked 40 hours, you would pay them for 40 hours at their normal rate, as well as 20 hours of annual leave.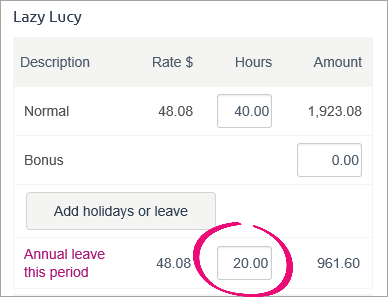 Image Added
HTML Wrap
| | |
| --- | --- |
| width | 15% |
| class | col span_1_of_5 |
HTML Wrap
| | |
| --- | --- |
| float | left |
| class | col span_1_of_5 |
Panelbox
| | |
| --- | --- |
| name | magenta |
| title | Related topics |