HTML Wrap
HTML
<span data-swiftype-index="true">
HTML Wrap
MYOB's purchases reports help you keep track of your supplier purchases, including unpaid bills.
You can access the purchases reports via the Reporting menu > Reports > Purchases reports.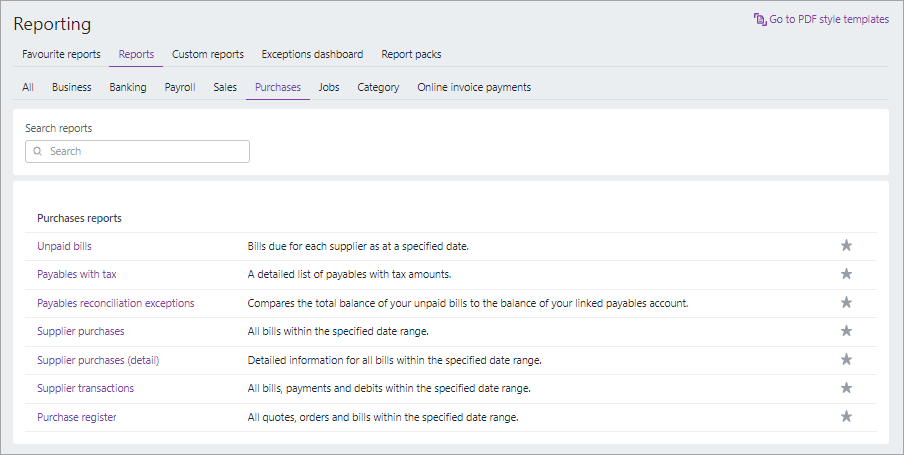 UI Text Box
Available reports are based on your plan If there's a report listed here that you need, go to My Account to upgrade your plan (click your business name > My Account > Manage my product).
UI Expand
| | |
| --- | --- |
| expanded | true |
| title | To run a purchases report |
To run a purchases report
Go to the Reporting menu and choose Reports.
Click the Purchases tab.
Click a report to run it.

Choose your report filters and Report options across the top—these might vary depending on the report you're running.
As you change these filters, the report will update automatically.

UI Text Box

You can see a detailed view in some reports by clicking Expand all:

If you want to customise the report further, for example to select and reorder columns, click Customise. For general information about customising reports, see Customising reports.
Exporting
, saving and printing
You can export the your report as an Excel spreadsheet or PDF by clicking Export. For PDFs, you can also choose which style template you want to use. When the PDF displays, you can save or print it.
Note that you must enable editing of the spreadsheet from within Excel. If editing is disabled, the spreadsheet will not display the totals calculated in the report.
HTML Wrap
| | |
| --- | --- |
| width | 15% |
| class | col span_1_of_5 |
HTML Wrap
| | |
| --- | --- |
| float | left |
| class | col span_1_of_5 |
Panelbox
| | |
| --- | --- |
| name | magenta |
| title | Related topics |