HTML Wrap
HTML
<span data-swiftype-index="true">
HTML Wrap
You can set all of your report preferences in the one place, so when you run a report it automatically displays just the way you like it.
When you save these preferences, they'll be applied every time you run a report or export or print it.
Go to the Report settings page (click your business name and choose Report settings).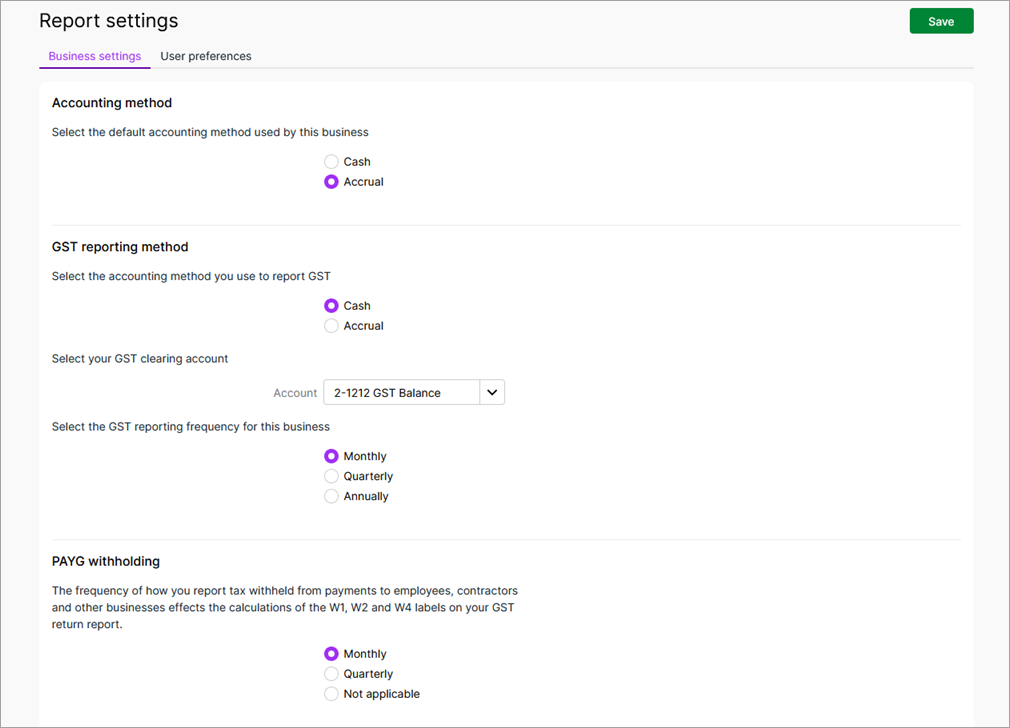 There 's are two groups of settings on this page:
Business settings – select what accounting basis to report on and whether you want exception alerts to appear when you run reports. Any changes you save to these settings apply to all users in the business.
User preferences – select how to present reports. These preferences only apply to you – other users can set their own user preferences.
You can override these default settings when you run reports.
UI Expand
| | |
| --- | --- |
| expanded | true |
| title | To select your report settings |
To select your report settings
Click your business name and choose Report settings.
Click Business settings and select whether you want to:


report on a cash or accrual basis. If you're not sure what to pick, consult your accounting advisor.
select your GST settings, including the accounting method,

GST clearing account,

reporting frequency and

your

PAYG withholding frequency. The

GST clearing account

. This

will be

the

your

liability account that temporarily holds funds to be disbursed to the ATO or

IRD

to IR

, such as a GST Balance account. If needed, you can create a separate account for this purpose.
show or hide exception alerts. These alerts help you find transactions that you might need to check, for example, future dated transactions or transactions where the wrong tax might have been applied.

Click Save. Any changes you've made will apply to all users of that business.
Click User preferences andselect:


whether you want to include year-end adjustments
how you want to display amounts, accounts and currencies. For example, if you like to see cents included in report amounts, select Cents.

Choose PDF options:


PDF styling. Choose a PDF style template to determine what reports look like when you export them as PDFs

PDF export. Select whether you want reports to open in a new browser tab or whether they are to be downloaded

Report pack template. When you create a report pack, the report pack template you choose will be applied by default. This defines what information is going to be included in the report pack, how it's going to be organised and presented.

Click Save. Your preferences will be applied every time you sign in to this business and run reports.
HTML Wrap
| | |
| --- | --- |
| width | 15% |
| class | col span_1_of_5 |
HTML Wrap
| | |
| --- | --- |
| float | left |
| class | col span_1_of_5 |
Panelbox
| | |
| --- | --- |
| name | green |
| title | Related topics |