HTML Wrap
HTML
<span data-swiftype-index="true">
HTML Wrap
Want to brush up on your AccountRight skills, or have questions about a task or window? We've got a few resources you can access easily anytime.
Help Centre
This Help Centre you're using right now describes all the functions and features of your software. The search feature is handy to find answers to questions, and solutions to error messages you might see.
To display the Help Centre:
In any AccountRight window, press the F1 key on your keyboard.
In any AccountRight window, click the Help or Help for this window buttons.
In your browser, go to help.myob.com.
For times when you don't have access to the internet, you can refer to the User Guide (see below).
Field help
Hover your mouse over a button, field or column header to get a brief description of what it is.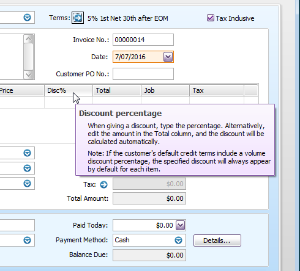 To turn field help on or off, go to the Help menu and select Show Field Help or Hide Field Help.
User Guide
The User Guide PDF details the features, functions and capabilities of your AccountRight software. It's designed to be used when you can't access this online Help Centre.
You can access the User Guide from the MYOB folder in your Windows Start menu.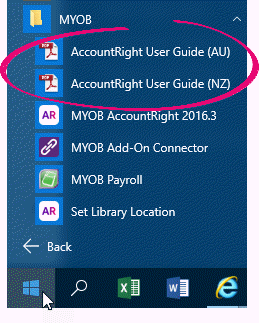 Training
There are lots of online self-paced training courses that can help you learn and make the most of AccountRight. Or, get in contact with a Professional Partner who can provide help tailored to your business.
HTML Wrap
| | |
| --- | --- |
| width | 15% |
| class | col span_1_of_5 |
HTML Wrap
| | |
| --- | --- |
| float | left |
| class | col span_1_of_5 |
Panelbox
| | |
| --- | --- |
| name | green |
| title | Related topics |
Panelbox
| | |
| --- | --- |
| name | yellow |
| title | From the community |
RSS Feed
| | |
| --- | --- |
| titleBar | false |
| max | 5 |
| showTitlesOnly | true |
| url | http://community.myob.com/myob/rss/search?q=Learning+about+AccountRight&filter=labels%2Clocation&location=forum-board%3AAccounting_Software_General&search_type=thread |
HTML
<p>
<a href="https://academy.myob.com/" alt="Book MYOB training now" target="_blank"><img src="http://help.myob.com.au/images/trainingad/iconbrain.png" width="100%" height="auto"></a>
</a></p>