HTML Wrap
HTML
<span data-swiftype-index="true">
HTML Wrap
If you have transactions that you record regularly—for example, a rent cheque—you can set them up as recurring transactions and save them as a template for future use.
When you save a recurring transaction, you can specify how often you want the transaction to be recorded, and for how long you want to schedule it. For example, you can schedule your car payments monthly, for the next 22 months. You can also set up an alert to remind a user to record a recurring transaction manually or set it to record automatically.
You could also just save the recurring transaction as a template to use whenever you like, without a set frequency.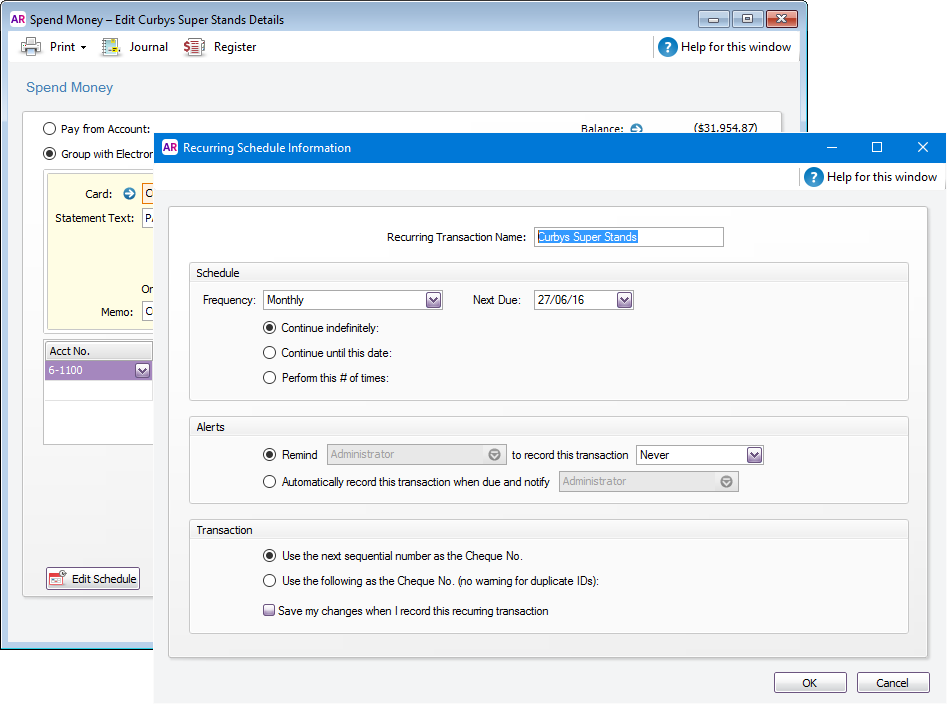 If the transaction details are the same each time—such as a rent payment, you can set up a recurring transaction to record automatically. Or you can open the transaction as required, alter the details (for example, if you make regular sales to a customer and vary the items), and then record the transaction.
You can make the following transactions recurring: sales, purchases (Not Basics), Spend Money, Receive Money, Transfer Money and general journal entries.
If a recurring transaction changes (such as when you pay it or the amount), you can edit the details of the recurring transaction.
Learn more about:
UI Text Box
UI Children
| | |
| --- | --- |
| indent | 5px |
| columns | 2 |
| display | block |
| type | flat |
| printable | false |
| separator | pipe |
HTML Wrap
| | |
| --- | --- |
| width | 15% |
| class | col span_1_of_5 |
HTML Wrap
| | |
| --- | --- |
| float | left |
| class | col span_1_of_5 |
Panelbox
| | |
| --- | --- |
| name | green |
| title | Related topics |
Panelbox
| | |
| --- | --- |
| name | yellow |
| title | From the community |
RSS Feed
| | |
| --- | --- |
| titleBar | false |
| max | 5 |
| showTitlesOnly | true |
| url | http://community.myob.com/myob/rss/search?q=recurring+transactions&filter=labels%2Clocation%2CsolvedThreads&location=category%3AAccountRight&search_type=thread&solved=true&sort_by=-topicPostDate |