HTML Wrap
HTML
<span data-swiftype-index="true">
HTML Wrap
The AccountRight interface has been refreshed to make it easier to use and navigate. Click a heading below to find out more about these enhancements.
UI Expand
| | |
| --- | --- |
| title | Command centre and command panel |
Anchor
| | |
| --- | --- |
| | commandcentre |
| | commandcentre |
Command centre and command panel

The look and the functionality within existing command centres has changed. All the functions you're familiar with are there, but you will also see some new functions.
Command panel
The command panel, located at the bottom of each command centre, has been redesigned and now includes Business Insights. Previously, you accessed Business Insights from the Accounts command centre.

Note that the enhanced Business Insights feature replaces the Analysis panel. For more information, see Business Insights enhancements.
UI Expand
| | |
| --- | --- |
| title | Windows, lists, fields |
Windows, lists, fields

Apart form looking different, finding and viewing your information in is easier. The following describes changes in how you select records, view information and perform tasks.
Selection lists
Previously, when you typed a record name or code that wasn't available and pressed Tab, a Select from List window would appear. Now, the list of records appears below or above the field so you can quickly select from the list or create a new record. You can sort and resize the columns and resize the list box to make it easier to find the record you want to use.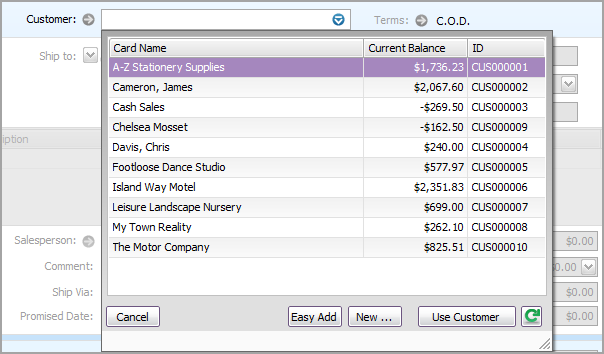 Changed button positions
Previously, buttons such as New and Print were positioned along the bottom of windows.

Task buttons can now be found on a toolbar at the top of the windows. The help button (

) is now located in the top right corner of the window.

Zoom arrows
Zoom arrows, displayed next to various fields, allow you to display more detailed information about a specific entry such as a transaction or customer record.
Previously, a white zoom arrow (

) indicated that you could make changes to the detailed record. A grey zoom arrow (

) indicated that this information was read-only.
Now, a changeable transaction is indicated by a blue zoom arrow (

), while a grey zoom arrow (

) indicates a read-only transaction.
UI Expand
| | |
| --- | --- |
| title | Searching and sorting |
Searching and sorting

Finding the information you are looking for is easy with new searching and sorting functions.
Searching lists
Previously, you could only search your items list and cards list. You can now search all of your lists, including accounts, jobs and categories.
To search a list, open the list window, such as the Jobs List window, and type the text or number you want to search for in the Search field. The list entries that match your search are displayed and updated as you type.
In the example below, a search for the term "GM" found two jobs with this term in their names.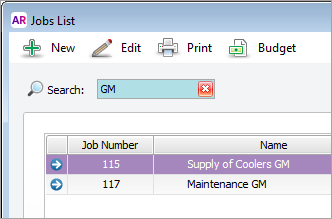 Sorting lists
You can now sort most information displayed in your list windows. Click on a column heading to sort the list entries by that heading attribute. A triangle next to a column header indicates whether the list is sorted by that attribute in ascending or descending order. Click again to reverse the sorting order. Also learn about the enhanced searching and sorting features in the Cards List.
Inactive records in lists
Inactive records are now hidden by default in the Cards and Items lists windows, and in the Activities and Categories lists windows (Not Basics). If you want inactive records to appear, you need to select the Show Inactive option.
Column resizing and arrangement
You can now resize and rearrange the columns in your list and transaction windows.
To resize a column, click and drag a column boundary to a new position.

To move a column, click and drag the column header to a new position.

When you move or resize columns in AccountRight windows, these changes are saved and appear when you next open AccountRight. This saves you having to set them up again and speeds up data entry.
UI Expand
| | |
| --- | --- |
| title | Right-click to shortcut menu |
Right-click to shortcut menu

When you right-click your mouse in the Card Information window or the Reconcile Accounts window, a menu of related tasks appears. This gives you quick access to most tasks related to your contacts and your bank reconciliation. This feature replaces the Action menu in these windows.

For example, you can right-click in the Card Information window for your customer to access features such as creating a letter or entering a contact log entry. There are also other menu items available to make data entry faster, such as entering transactions and printing options.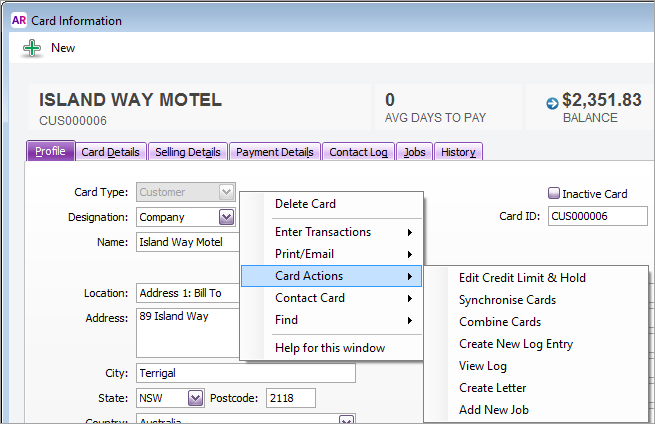 In other transaction and record windows, you can also right-click to access related tasks and help for that window.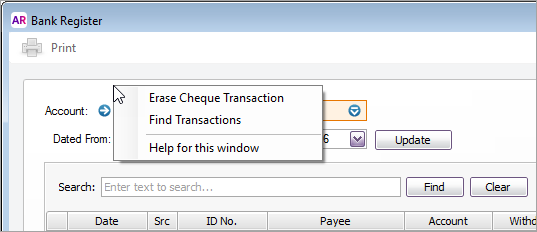 HTML Wrap
| | |
| --- | --- |
| width | 15% |
| class | col span_1_of_5 |
HTML Wrap
| | |
| --- | --- |
| float | left |
| class | col span_1_of_5 |
Panelbox
| | |
| --- | --- |
| name | green |
| title | Related topics |
panelbox
| | |
| --- | --- |
| name | yellow |
| title | From the community |
RSS Feed
| | |
| --- | --- |
| titleBar | false |
| max | 5 |
| showTitlesOnly | true |
| url | http://community.myob.com/myob/rss/search?q=what%27s+new+accountright+live&filter=labels%2Clocation%2CsolvedThreads&location=forum-board%3AInstallingUpgrading&nospellcheck=true&search_type=thread&solved=true |