HTML Wrap
HTML
<span data-swiftype-index="true">
HTML Wrap
The Leave Management button the Current Pay window opens the Leave Management window. This window is for paying all types of leave, plus any full Rostered Days Off that the employee has accrued. Note that the system will suggest a dollar value of leave for waged employees but will not suggest a value for salaried employees. Whatever you pay out will be reduced from the available leave once the Current Pay has been updated.
Current Pay Leave Summary
The Leave Management function is for paying all types of leave. The default view of the Leave Management window is the Leave Summary.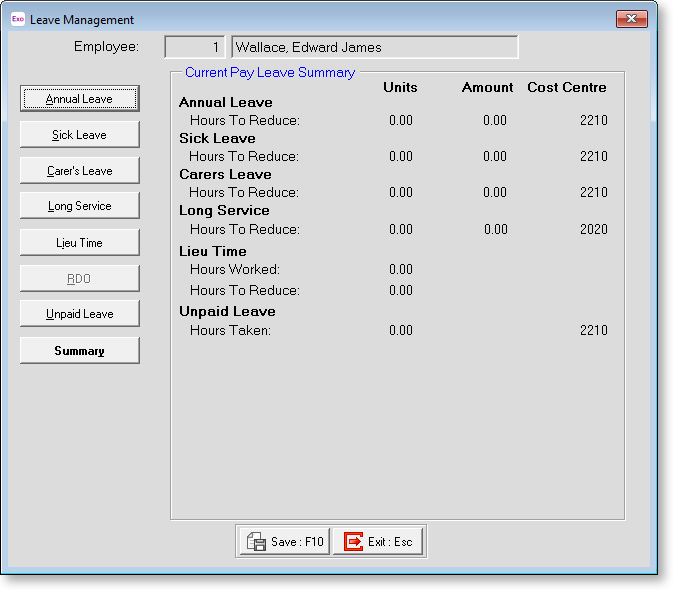 Image Removed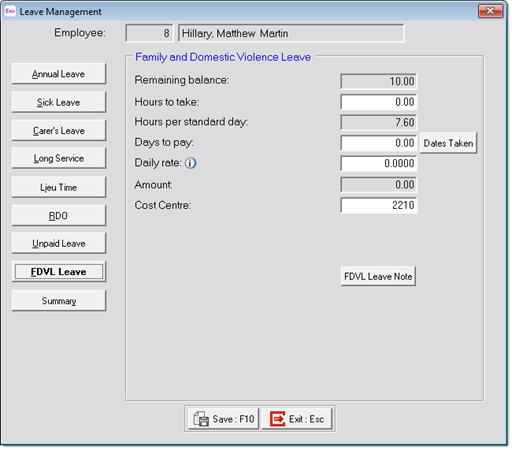 Image Added
This view provides a breakdown of the total leave amount. It shows the units paid, dollars and Cost Centre for each transaction type. To change the view to any given leave type, simply click on one of the buttons on the left. This shows the outstanding entitlements and options for paying out the leave type of your choice.
Clicking the Summary button returns to the Leave Summary view.
Salary Adjustment
For salaried employees, Exo Payroll will automatically reduce the salary after you add a Sick or Annual Leave amount. You are asked to confirm this: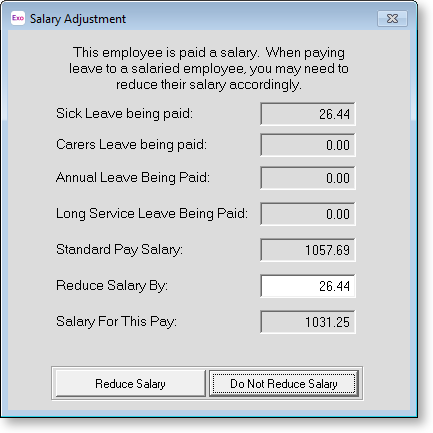 The employee's salary is normally reduced if Sick or Annual Leave is in the same pay period.
HTML Wrap
| | |
| --- | --- |
| width | 15% |
| class | col span_1_of_5 |
HTML Wrap
| | |
| --- | --- |
| float | left |
| class | col span_1_of_5 |