HTML Wrap
HTML
<span data-swiftype-index="true">
HTML Wrap
Before you can start paying superannuation with MYOB's super portal, you need to enter the details of the bank account you'll use to pay super. You'll authorise this bank account to make payments when you complete the signup for MYOB's super portal.
The account should be one of your actual bank accounts, not an MYOB Essentials bank account.
Enter your bank details
To enter your bank account details for paying superannuation, go to the Payroll settings page (Payroll menu > Payroll settings) and enter your account name, BSB and account number in the Pay superannuation settings section at the bottom of the page, then click Save.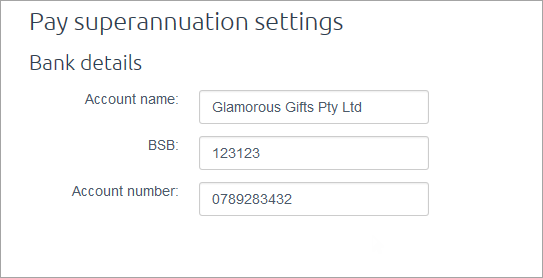 Note that when you make a payment through MYOB's super portal, it won't be recorded against the equivalent account in MYOB Essentials. See Recording super payments made through MYOB's super portal for how to record these payments.
UI Text Box
Changing bank detailsThe
To change your bank account details can't be changed within the super portal. Please call MYOB on 1300 555 123 to make any changes to your bank accountafter you've signed up, complete the change request form and return it to superportal@myob.com. We'll make the changes and let you know when it's done.
See Pay superannuation for more details on what else you need to set up before you can start paying super.
HTML Wrap
| | |
| --- | --- |
| width | 15% |
| class | col span_1_of_5 |
HTML Wrap
| | |
| --- | --- |
| float | left |
| class | col span_1_of_5 |
Panelbox
| | |
| --- | --- |
| name | magenta |
| title | Related topics |
Panelbox
| | |
| --- | --- |
| name | yellow |
| title | From the community |
RSS Feed
| | |
| --- | --- |
| titleBar | false |
| max | 5 |
| showTitlesOnly | true |
| url | http://community.myob.com/myob/rss/search?q=pay+super&filter=labels%2Clocation%2CsolvedThreads&location=category%3AMYOBEssentials&search_type=thread&solved=true |