HTML Wrap
HTML
<span data-swiftype-index="true">
HTML Wrap
Click the FDVL Leave button on the Leave Management window to pay an employee Sick Leave.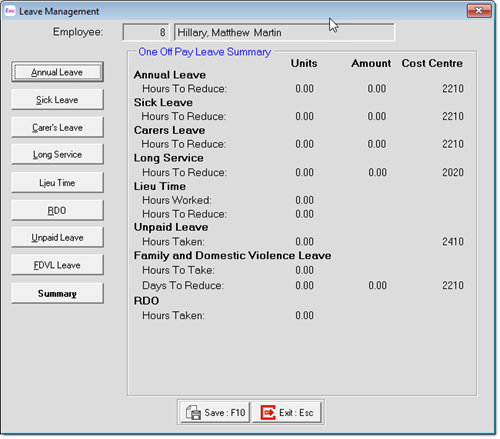 Image Removed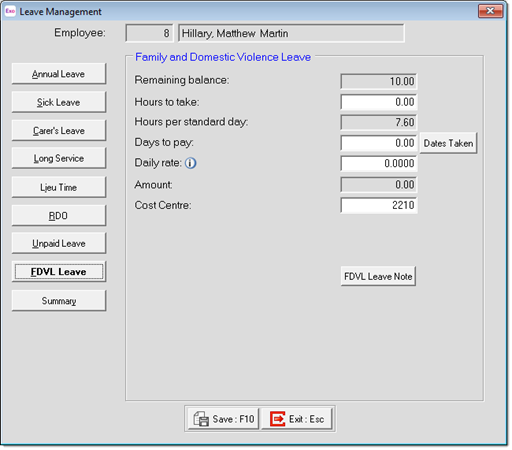 Image Added
Remaining balanceThis field will show the Hours that an employee still has available to use.
Hours to takeThe number of hours equivalent to the amount of FDVL being taken. This is needed to improve reporting and annual leave accrual calculations, because FDVL is measured in days.
UI Text Box
If you have ticked the Pay period valuation method option for annual leave, the Hours to take will affect the annual leave accrual calculation.
Days to pay This field is used to type in the number of days of FDVL that you want to deduct from the employee's remaining balance. If these are greater than that shown for the Remaining balance a warning will be displayed, and you will be asked if you want to pay an advance. If you click Yes, the amount is shown opposite Amount.
Dates Taken Clicking on the Dates Taken button brings up a calendar, from which you need to specify which calendar days the FDVL fell on.
To colour a cell, click on the appropriate day. Click Save or press F10 to save your changes and return to the Sick Pay window.
Daily rate The daily rate the leave will be paid at. Note that the rate for FDVL is the employee's base rate plus a range of other payments, including penalty rates, allowances etc. For more information, click the information icon, or see Fair Work Ombudsman – Payment for Leave.
UI Text Box
Enter the rate manually Unlike other types of leave, you need to manually enter the rate for FDVL. The system does not calculate it for you.
AmountThis field shows the total dollar value of FDVL that the employee is going to be paid.
Cost CentreAlthough FDVL is automatically costed to the employee's default Cost Centre, this field allows you to cost the value to a different Cost Centre.
HTML Wrap
| | |
| --- | --- |
| width | 15% |
| class | col span_1_of_5 |
HTML Wrap
| | |
| --- | --- |
| float | left |
| class | col span_1_of_5 |