https://help.myob.com/wiki/x/BIAHAQ
Close
How satisfied are you with our online help?*
Just these help pages, not phone support or the product itself
Very dissatisfied
Very satisfied
Why did you give this rating?
Anything else you want to tell us about the help?
There are two types of linked, or default, accounts used in AccountRight: feature-level and record-level linked accounts. They work behind the scenes so you don't have to select as many accounts every time you record a transaction.
You can change the default linked accounts and turn some off. However, some feature-level accounts can't be changed or turned off, even if you don't use the feature they're linked to.
Feature-level linked accounts
Feature-level linked accounts are the default accounts that AccountRight uses for some of its main features. For example, there's a linked account for tracking receivables (your trade debtors) and a banking account for receiving customer payments. So whenever you record a credit sale, AccountRight knows which account you use to track what customers owe you, and will update it automatically. Likewise, when you receive a customer payment, the linked bank account you've selected will be used by default.
You can see which accounts are linked to features by going to the Accounts List window. Linked accounts are indicated by a tick in the Linked column. You can also view or print the Linked Accounts report to see the full list of feature-based linked accounts (Reports menu > Accounts tab > Linked Accounts).
You can edit feature-level linked accounts by going to Setup menu > Linked Accounts. From this menu you can choose to set up the following linked accounts.
 
Record-level linked accounts
Accounts linked at the record level are those that you've selected as the default accounts used for particular cards, items, tax codes, payroll categories, and other records. For example, when setting up a customer card, you can select a default income account to use when creating a sale for them. That account is now linked to the card.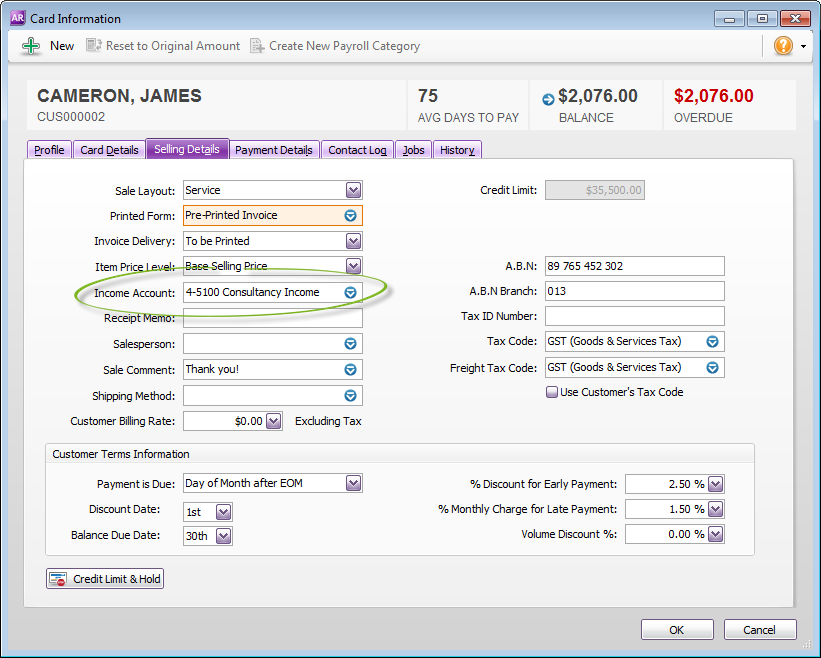 FAQs