https://help.myob.com/wiki/x/YBfnAQ
Close
How satisfied are you with our online help?*
Just these help pages, not phone support or the product itself
Very dissatisfied
Very satisfied
Why did you give this rating?
Anything else you want to tell us about the help?
Ticking Trust this device when you sign in allows you to skip two-factor authentication for the next 30 days when you sign in with the same device (laptop, tablet, phone, etc.), using the same browser (Chrome, Internet Explorer, etc.).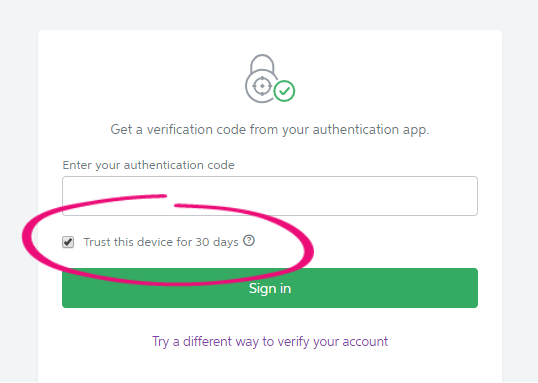 Two-factor authentication (2FA) keeps your account protected if your password is comprised. Because Trust this device bypasses 2FA, you should only tick this setting on devices that are not shared, and that you know are secure.
Don't tick Trust this device on a shared device.
Why am I being asked to enter the authentication code after I've ticked 'Trust this device for 30 days'?
If you're prompted for 2FA when signing in, despite having ticked Trust this device, it's probably for one of the following reasons.
You've logged in using a different browser or computer
The Trust this device setting is saved by the browser you're using, on the device you're using - not by your MYOB account. This means that if you tick Trust this device while signing in, then later you sign in using a different browser or a different computer, you'll be asked for a 2FA code.

The fix for this is simple - you can set Trust this device on multiple browsers and computers, so set it on each browser and computer you use, once a month.
Note: When you sign into an AccountRight online file, the sign in window opens in Internet Explorer (even though it looks like you haven't left AccountRight). This means that when you tick Trust this device, the setting is saved in Internet Explorer. If you use a different browser (e.g. Chrome) when you sign in to other products then you'll need to set it for the other browser as well.
'Trust this device' setting has been overridden by another user
The Trust this device setting is saved by the browser you're using, and will only remember one user at a time. So if someone logs in to their account after you and ticks Trust this device, you'll be asked for a 2FA code next time you sign in.
This might seem like a needless hassle but 2FA is designed as a second layer of protection for your account, so it's not designed to work on shared devices.
You might experience this if you have a shared device in your business – like a shared computer used in a training room. This computer might be 'secure' because it's part of your business and running antivirus software, but because it's shared you should always use 2FA when you use it to sign in to your MYOB account.
You're signing out of AccountRight
Signing out of AccountRight will clear the 'Trust this device' setting. To keep the setting, close the AccountRight window using the X in the top right corner, or click File >Exit instead of signing out.
Only signing out of AccountRight clears the trusted device setting. Signing out of other MYOB products won't clear the setting.
Was this information helpful?

Yes

No
Why not?
How would you improve this page?
Unfortunately, we won't be able to respond to your feedback. Please don't enter any personal information—if you need urgent help, contact our support team instead.

Thanks for your feedback.
Thanks! Anything you'd like to add?
We'd love to know what worked so we can keep improving our help. Please don't enter any personal information—if you need more help, get in touch with our support team.