https://help.myob.com/wiki/x/pIBk
Close
How satisfied are you with our online help?*
Just these help pages, not phone support or the product itself
Very dissatisfied
Very satisfied
Why did you give this rating?
Anything else you want to tell us about the help?
To email from AccountRight you need Microsoft Outlook (2007 or later) installed on your computer.
You're then ready to stay in touch with your contacts by emailing invoices, statements, bills and more.
When you email from AccountRight, the document is converted to a PDF and attached to an email sent through Outlook.
If you're not using Microsoft Outlook, save your document as a PDF (Send To > Disk) then attach it to an email.
How to email
Typically, you can display what you want to email, then click Send to > Email.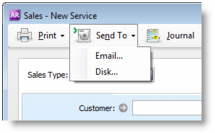 Emailing attachments
Do you want to include your latest price list when emailing an invoice? Or perhaps you want to include a birthday card when emailing a report to your accountant (stranger things have happened!).
Click Attach on the Email window to select an additional attachment.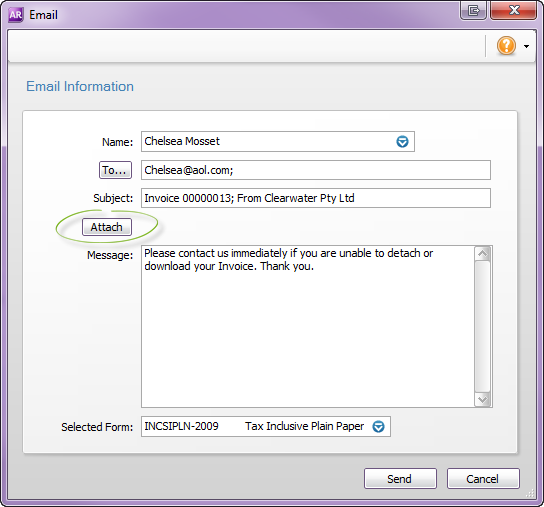 Email addresses
The email addresses in your contacts' cards are used when sending emails. Click To if you have additional email addresses specified in a contact's card which you want to use. Or you can type email addresses directly into the To field, and use a semi-colon (;) to separate multiple addresses.
Email Defaults
The default Subject and Message for your emails are specified using the Email Defaults window (Setup > Preferences > Reports & Forms tab > Emails). This lets you customise your email text making it specific to your business.
You can override the default text in the Email or Review Forms Before Delivery windows when sending an email.
To change the form which is used when emailing, see Setting the default form to print and email.