https://help.myob.com/wiki/x/Col-B
Close
How satisfied are you with our online help?*
Just these help pages, not phone support or the product itself
Very dissatisfied
Very satisfied
Why did you give this rating?
Anything else you want to tell us about the help?
Australia only
Why you should set up MYOB direct debit requests
If you use Online Invoice Payments, you'll find direct debit requests are another great way to enhance your invoicing workflow, giving you more time to focus on growing your business rather than spending time on administration. Direct debit requests are ideal for businesses that regularly invoice customers for the same amount, such as gyms, real estate agencies and childcare centres.
When you set up direct debit requests in MYOB you can give your customers an easy way to pay you without having to manually enter invoices and payments. Having regular scheduled payments from your customers can also help with your cashflow planning.
How it works
You set up the details of the direct debit request, including the customer, the direct debit amount and the payment schedule. When you save these details, the direct debit request is emailed to the customer.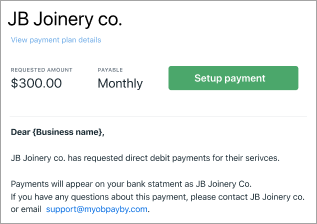 The customer then needs to click Setup payment, enter their banking details and authorise the request.
You can set up your direct debit requests in MYOB by following the steps below. If you need more information, visit this website.
Hands-free payments
Once a direct debit request is set up, everything is done automatically for you. The customer is automatically reminded when a payment is due, the invoice for each payment is automatically created in MYOB and it's automatically closed off when the customer pays it. And, if you've got bank feeds set up on the account the payments go into, those payments are automatically reconciled for you.
How the direct debit payments look in MYOB
If a customer has authorised a direct debit request, they'll be emailed a reminder that a direct debit is scheduled two days before a payment is due. When the payment is debited, the Status of the invoice in your MYOB will change from Open to Closed:

You'll also receive an email that the invoice has been paid.
FAQs