https://help.myob.com/wiki/x/goeO
Close
How satisfied are you with our online help?*
Just these help pages, not phone support or the product itself
Very dissatisfied
Very satisfied
Why did you give this rating?
Anything else you want to tell us about the help?
You can stay in touch with your contacts by emailing invoices, statements, bills and more. Before you email from AccountRight, you need Microsoft Outlook (2007 or later, 32-bit version) installed on your computer and set as your default email program.
When you email a transaction (such as an invoice or purchase order), it's converted to a PDF and attached to your email. You can also attach a file, such as your latest catalogue, override the default subject, message and address, and add more addresses.
 If you want to check the status of an email or review what was sent, you'll find the original email in your Outlook mailbox.
To set Microsoft Outlook as your default email program
AccountRight sends emails from the default email program and email address set up on your computer. Microsoft Outlook is the only email program you can use with AccountRight.
From the Control Panel, choose Internet Options.
Click the Programs tab > Set programs.
Choose the option Set your default programs.
Select Microsoft Outlook then click Set this program as default.
If you're not using Microsoft Outlook, save your document as a PDF (Send To > Disk) then attach it to an email.
How to email
Typically, you enter the transaction you want to email and then click Send to > Email before recording it. The transaction is automatically recorded and you can then change the default email settings before sending it. You can also send your emails in a batch, you might do this for your monthly statements or employee payslips.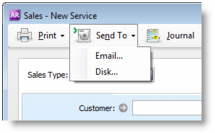 Emailing attachments
Do you want to include your latest price list when emailing an invoice? Or perhaps you want to include a birthday card when emailing a report to your accountant (stranger things have happened!).
Click Attach on the Email window to select an additional attachment.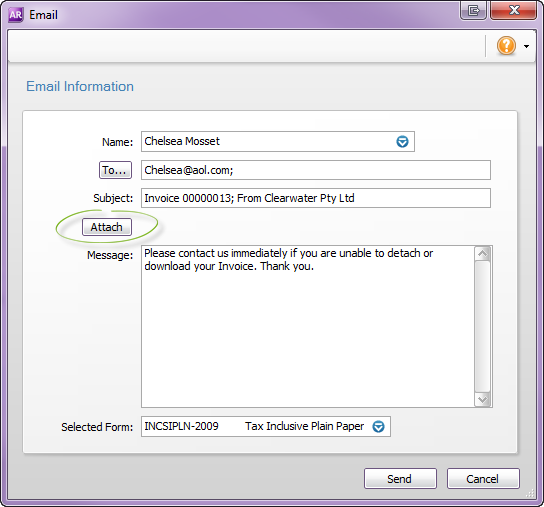 Email addresses
The email addresses in your contacts' cards are used when sending emails. Click To if you have additional email addresses specified in a contact's card which you want to use. Or you can type email addresses directly into the To field, and use a semi-colon (;) to separate multiple addresses.
Default email subject and message
The default Subject and Message for your emails are specified using the Email Defaults window (Setup > Preferences > Reports & Forms tab > Emails). This lets you customise your email text making it specific to your business.
You can override the default text in the Email or Review Forms Before Delivery windows when sending an email.
To change the form which is used when emailing, see Set a default form to print and email.
FAQs
Which email programs work with AccountRight?
AccountRight supports Microsoft Outlook 2007 or later (32 bit only). If you use a web email service, such as Gmail, you can access and send emails for these services within Microsoft Outlook (via IMAP or POP). Your email provider will have instructions on how to set this up in Outlook.
Outlook 2013 must be installed on your computer and not used online as part of an Office 365 subscription.
How do I set the default email address?
AccountRight sends emails using the default email address set up in Microsoft Outlook. If you have more than one email address in Outlook, here's how to set the default one:
In Outlook go to File > Info > Account Settings > Account Settings.
Click the Email tab.
Select the email address you want to use, then click Set as Default.
Click the Data Files tab and again select the email address you want to use then click Set as Default.
I get an "Error sending email" message
If you get an "Error sending email" message when emailing pay slips, make sure you are using the latest version of AccountRight. An issue was found in an earlier version of AccountRight and fixed in 2015.2.
This message can also appear when other software or your system settings stop the email being transferred from AccountRight to Outlook. This includes:
Outlook security settings
Third party security software, such as antivirus
User Access Control settings
As the issue is outside AccountRight, it's difficult to know the exact cause. We recommend seeking help from an IT specialist or the MYOB community to find an appropriate fix.
How do I reprint or resend forms?
If you need to reprint or resend a transaction, redisplay it and then click Print or Send To from the transaction window. For example, to reprint a sale, find it in the Sales Register window and click the zoom arrow to display it in the Sales window. Then click Print or Send To.
If you need to reprint or resend a few transactions look for the Print/Email...buttons in the relevant command centre. For example, to reprint a few sales, click Print/Email Invoices in the Sales command centre. If the transactions aren't listed in the Review... window, click Advanced Filters and deselect the Unprinted or Unsent Only option.
How do I remove emails from the To Be Emailed tab?
If you need to remove emails from the To Be Emailed tab, there's two ways to do it:
If you only have a few emails to be removed, open each of the transactions and change the Delivery Status to Already Printed or Sent.
If you have lots of emails to be removed:

Disconnect your computer from the internet
In your software send the emails you want to remove from the To Be Emailed tab. Without an internet connection, it will only move them to the Outbox in Outlook.
Delete the emails from the Outbox.
Reconnect to the Internet.
How do I make email the default delivery method?
You can set an option to make email the default delivery on each customer card. Go to the Selling Details tab of a customer card and set the Invoice Delivery field to To be Emailed. Note that if this option isn't available, it's likely you've selected the No Default or Miscellaneous sales layout type which is only used for recording adjustments.
You can also set a preference to email sales immediately after recording them. Go to the Sales Preferences (Setup menu > Preferences > Sales tab) and select the Automatically [Email] Sales When They are Recorded option.
Why are fields missing on email attachments but appear correctly when printed?
Try making the field larger on your form. If a field in a customised form is too small, it might get missed when the form is converted to PDF to be emailed - even though the field might display when printed.To enlarge a field when you're customising a form, click and drag a corner of the box surrounding the field.
Why do my emails include an attachment called "Winmail.dat"?
If Outlook is set up to compose emails in Rich Text Format, Outlook will sometimes attach a file called "Winmail.dat" to your emails.
To stop this, ensure Outlook is set up to compose emails in HTML or Plain Text. This setting is usually under the Mail settings in Outlook.
In Outlook 2010 and later: File > Options > Mail > Compose messages
In Outlook 2007: Tools > Options > Mail Format > Message Format