https://help.myob.com/wiki/x/CIuO
Close
How satisfied are you with our online help?*
Just these help pages, not phone support or the product itself
Very dissatisfied
Very satisfied
Why did you give this rating?
Anything else you want to tell us about the help?
If you try to record a transaction that would result in a negative inventory balance (physical quantity or dollar value), you will receive a negative inventory balance error like these: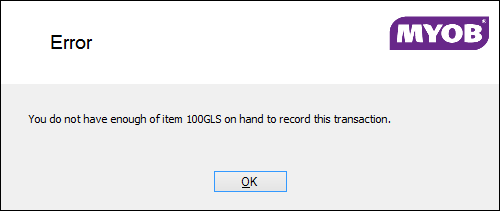 To act on this error, it helps to know how AccountRight tracks your inventory.
AccountRight uses the average costing method of recording inventory, which, unlike the first in first out (FIFO) method, calculates the cost of each item in your inventory by using the average cost of the whole group of items. See the FAQs below for more details.
Complications can happen along the way that drop this average price into the negative, but the solution is often as simple as adjusting your inventory.
FAQs