Example
A US customer has been billed for consulting services on the 1 March 2016 for a total of US$1000.00. At the time the exchange rate was Local $1.30 to USD $1.
At the end of the month, the invoice hasn't been paid and in the meantime the exchange rate has become Local $1.20 to USD $1.
Having updated the exchange rate to 1.2, the Unrealised Gains/Loss Report shows an unrealised loss of Local $100.00 as at 31 March 2016.
The resulting journal entry based on the above example looks like this: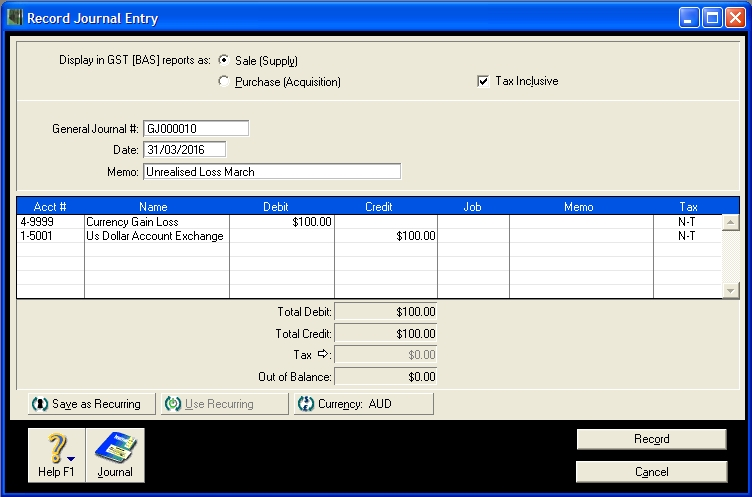 Save time!
Save these general journal entries as recurring transactions to speed up future entries. See the AccountRight help to learn more about recurring transactions (Australia | New Zealand).
Subsequently, by the end of April, payment for this sale has been received and other open invoices have been recorded in the company file.
The general journal entered for Unrealised Gain/Loss at the end of March must be reversed:
To reverse the journal entry
Go to the Setup menu and choose Preferences.
Click the Security tab.
Select the option Transactions CAN'T be Changed; They Must Be Reversed [System-wide] then click OK.
Display the general journal entered in the previous month. It can be accessed through the General tab of the Transaction Journal.
Go to the Edit menu and choose Reverse.
Change the date of the transaction to the first of the new month and click Record Reversal.
Prior to running the Currency Unrealised Gain/Loss report for April, the exchange rate for the currency is updated. Once the report for April has been run, the new general journal entry is recorded.