Once you begin selling products and services through your website, you'll need to be able to view and manage the sales transactions easily so you can pack and ship your orders. The Transactions and Transaction details pages provide everything you need to view and manage your sales.

It's also a good idea to start monitoring your sales activity regularly to make sure things are going according to plan. Get insight into your sales activity by viewing the Sales report page, which includes information on your sales over time, website revenue, average cart value, bestselling items and top revenue earners.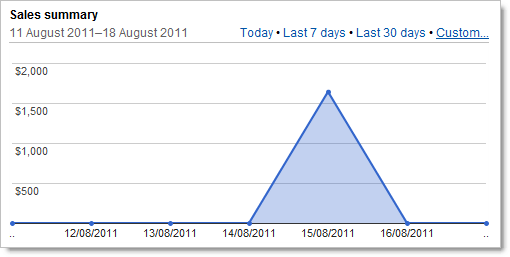 For more information, see Viewing and managing your sales and Monitoring your sales activity.
The PayPal service is provided by PayPal Australia Pty Limited (ABN 93 111 195 389) which holds an Australian Financial Services Licence number 304962. Before deciding to sign-up for or use the PayPal service you should consider the Product Disclosure Statement, available at www.paypal.com.au.
Consumer advisory-PayPal Pte. Ltd., the holder of PayPal's stored value facility, does not require the approval of the Monetary Authority of Singapore. Users are advised to read the terms and conditions carefully.