A statement is a summary of a customer's invoices and payments and is typically sent on a regular basis, such as monthly. Statements help your customers keep track of their account and how much they owe you.
On the Customer statements page, you can review, print and email customer statements for individual customers, or for a range of customers. If you want to change the look of your statements, see the FAQs below for details.
Want to see the sales and payments for a customer over any period? You can get this on the Sales history page.
To review, print or email a customer statement 
In the Sales menu, click the Customer statements link. The Customer Statements page appears.

A full list of your customers is shown. You can individually select customers, or you can find a specific customer by typing their business or contact name in the search field.
You can also filter your customers by whether they have email addresses or not.
If you want to include customers with a zero balance, select the Show $0.00 option.
Note that both active and inactive customers will be shown.
If you want to edit customer details, such as an email or phone number, click the ellipses () of the customer you want to edit, and click View/Edit Contact.
After editing the customer details, click Save. You'll be taken back to the Customer statements page and the customer details will be updated.

Select the customers you want to make statements for by clicking the box next to their name, or click the topmost box to select all.

The Print and Email options only appear after selecting one or more customers.

If you want to review the statements, click Print. The statements appear as separate pages of a PDF, ready to review.

If you want to

print

the statements:

Click Print . The statements appear as separate pages of a PDF, ready to review or print.
Click the print icon (  ). The Adobe Reader Print window appears.
Choose your print options and click OK to print the customer statements.

If you want to email the statements:

Click Email. The Email window appears.
If you want, edit the email Subject text or Message text.
If you want to save this particular email subject and message as a default template to use in future statements, click Save as template.
Click Send to email the customer statements.
<h2><i class="fa fa-comments"></i>&nbsp;&nbsp;FAQs</h2><br>
Why can't I see the print or email options?
The Print and Email options only show after one or more customers are selected. The options will disappear if all customers are deselected again.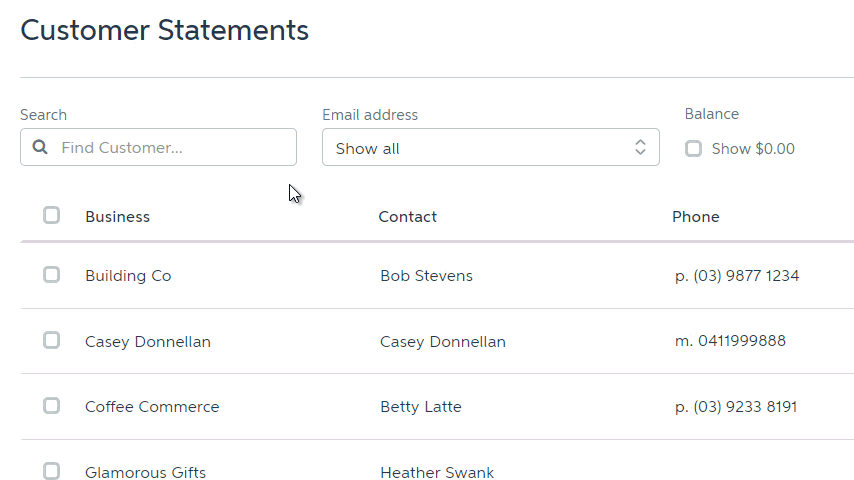 Can I edit the look or business details of my customer statements?
You can change the business details, payment details and logo (or full width banner image) that appears on your customer statements. Once you've set up your business details, specify which of these details you want to appear on your statements and add a logo or full width header image via the invoice and quote settings.
Note that if you change any of these settings, it'll also affect your invoices and quotes.
Can I select a statement date?
Currently statements in MYOB Essentials are invoice based designed to show you the invoices and the payments relating to that particular invoice based on today's date.
If you'd like to be able to choose a statement date in MYOB Essentials, vote for this feature on the MYOB Essentials Idea Exchange.