AccountRight Plus and Premier (v2018.2 and later), Australia only
Single Touch Payroll (STP) is a simple way to report your employees' payroll information to the ATO and keep your business compliant. Tell me more about STP.
AccountRight helps you get STP ready—here's what's involved:
Ready to get started?
To start reporting your payroll information via STP from 1 July, we recommend finishing your last pays for June and preparing your payment summaries. Once that's out of the way, you're ready to set up STP for the new payroll year.
You'll need an internet connection to complete the setup, but your company file doesn't need to be online.
To get started, go to the Payroll command centre and click Payroll Reporting.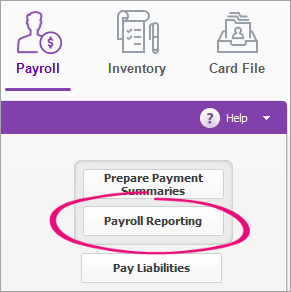 What you need to do
If you pay employees on multiple company files, you need to follow these steps to set up STP for each file.
You'll need an MYOB subscription for each file you want set up – to purchase additional subscriptions, please call MYOB on 1300 555 151.
Get your employees to set up a myGov account so they can access their year-to-date payroll info and end of year summary.
<h2><i class="fa fa-comments"></i>&nbsp;&nbsp;FAQs</h2><br>
How do I know if I'm set up for STP?
You'll know you're set up when you see the following message in the Pay Period window when you start a pay run (Payroll > Process Payroll).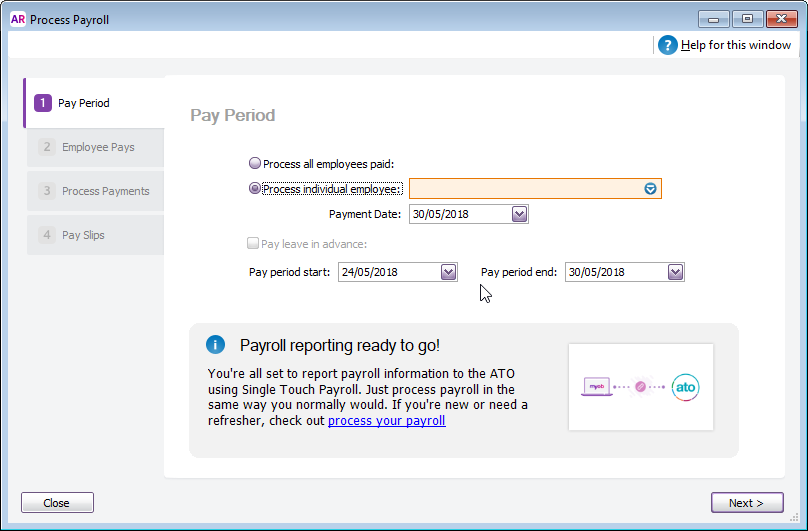 If the "Payroll reporting ready to go" message doesn't appear, your company file isn't set up for STP. See above for details on getting set up.
What if I'm setting up STP part-way through the year?
If you...
do this...
will pay an employee again this payroll year
Keep processing your pays as you normally would. When you process the first pay after setting up STP, the year-to-date totals for the employees you're paying will be sent to the ATO.
have paid an employee this payroll year but you're unlikely to pay them again

You can send the employee's year-to-date totals to the ATO by recording a $0 (zero dollar) pay for employee. Remove all hours, amounts and entitlements from the pay. When the $0 pay is recorded, you'll be prompted to declare and send the details to the ATO.

(click to enlarge image)
What happens after I'm set up for STP?
You'll continue processing your pays as normal, but after each pay run you'll be prompted to send the info to the ATO.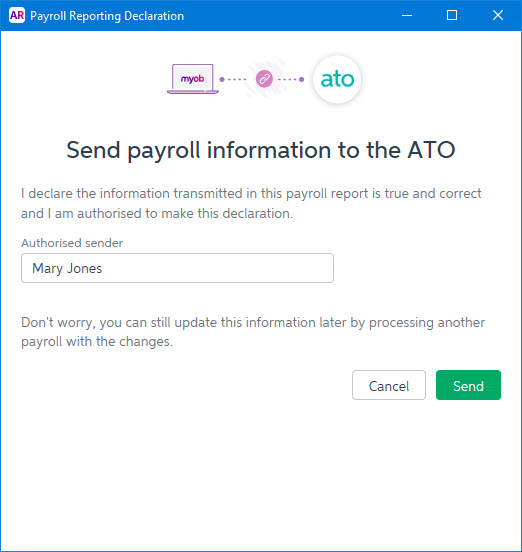 If this message doesn't appear after the pay run, your company file isn't set up for STP. See above for details on getting set up.
Learn more about what happens after setting up Single Touch Payroll.