When you restored your backup in the previous task, a folder called TEMPLATES was created. This folder contains your customised forms, reports and personalised letters. For Australian versions it can also contain your BASlink setup and saved payment summaries.
To use these customised templates in AccountRight on your new computer, you need to copy the contents of the TEMPLATES folder into your AccountRight installation folder.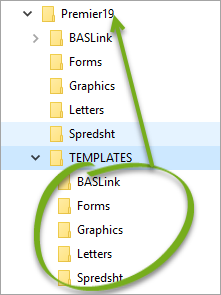 Open File Explorer by simultaneously pressing the Windows and E keys.

Locate your AccountRight installation folder on the C: drive.

If you installed this version
The installation folder is here
(v19.12 and earlier)
The installation folder is here
(v19.13 and later, Australia only)
AccountRight Standard

C:\Standard19

N/A
AccountRight Plus

C:\Plus19

C:\PlusClassic

AccountRight Premier

C:\Premier19

C:\PremierClassic

AccountRight Enterprise

C:\Enterprise19

C:\EnterpriseClassic

Double-click to open your AccountRight installation folder.
Double-click to open the TEMPLATES folder.
Select all of the folders within the TEMPLATES folder.

Click the first folder.
Hold down the SHIFT key then click the last folder in the TEMPLATES folder.
Right-click the selected folders and choose Copy.

Right-click your AccountRight installation folder and choose Paste. 
Choose to Replace the files in the destination.
 
Once you're done, that's it! You've successfully moved your AccountRight software, your company file, and all associated data to the new computer.