https://help.myob.com/wiki/x/BABy
Close
How satisfied are you with our online help?*
Just these help pages, not phone support or the product itself
Very dissatisfied
Very satisfied
Why did you give this rating?
Anything else you want to tell us about the help?
Connection errors like these happen when AccountRight can't connect to your company file: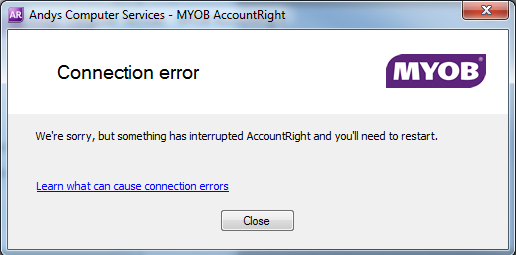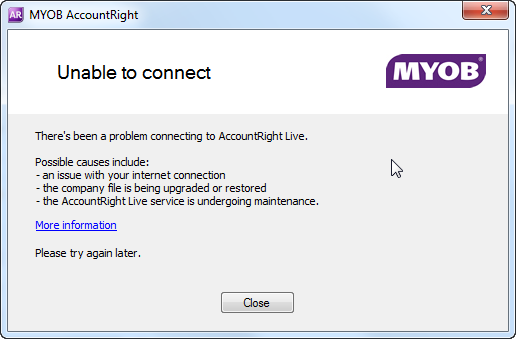 This can happen due to:
internet outages
scanning software on your computer, like an anti-virus program, interfering with the internet connection
scheduled maintenance on the AccountRight servers. Before and during scheduled maintenance we'll add a notice to the top of this help page. Also check the status of our online services at status.myob.com
Fixing connection errors
Restart AccountRight.
If you're still having issues, restart your PC. This clears temporary files which can cause connection issues.
Finally, restart your modem/router (unplug it for 10 seconds then turn it back on). This re-establishes your internet connection.
If you're still having issues, there's a couple more things you can try: