https://help.myob.com/wiki/x/IYZs
Close
How satisfied are you with our online help?*
Just these help pages, not phone support or the product itself
Very dissatisfied
Very satisfied
Why did you give this rating?
Anything else you want to tell us about the help?
We're really sorry you've received this message. The good news is the team have been working hard to eliminate errors like this, and we've made some great progress.
What causes this message?
Sometimes things don't go to plan and AccountRight is unable to complete a task. Usually a message appears explaining the cause of the problem and how to fix it. However, if the cause can't be identified, you'll see the following message: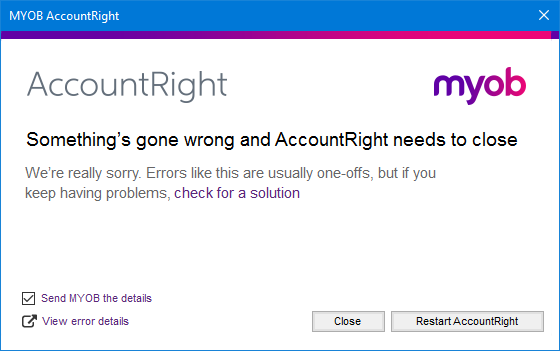 Restarting AccountRight often resolves errors like this because it removes temporary files stored on your computer which can sometimes cause problems. When AccountRight re-opens, the temporary files are gone, and hopefully so is your error.
If the error persists, there's a few things you can do: