Close
How satisfied are you with our online help?*
Just these help pages, not phone support or the product itself
Very dissatisfied
Very satisfied
Why did you give this rating?
Anything else you want to tell us about the help?
Get started
The Dashboard is the first page you'll see when you sign up with MYOB and each time you subsequently log in. It provides a simple, easy-to-read snapshot of your business as it stands today.
You can also get to the Dashboard at any time by clicking the myob logo at the left-hand end of the menu bar.
If you're accessing an AccountRight file in a browser and want to see changes you've just made in your AccountRight software reflected in the Dashboard, refresh the browser.
Watch this video on how to use your Dashboard.

Up next
Up next indicates the things you probably should do next in your business, such as allocate bank feed transactions, attach In tray documents to transactions, or chase up overdue invoices or bills.
Click the arrow in an Up next section to work on these tasks. For example, click the arrow in Overdue invoices to open the Invoices page, filtered and sorted by the most overdue invoices.
Manage your day-to-day
The Manage your day-to-day section of the Dashboard gives you a snapshot of the bank accounts you've set up bank feeds for. By default, you'll see all of your bank accounts – to view a specific bank account, choose it from the Bank account field. You'll see when the account was last reconciled, and the account balance as it stands with your bank (Bank feed balance) and in MYOB (Calculated balance).
You'll see if there are transactions to be allocated, and you can click to action them.
Need to control who sees what on the Dashboard? You can select roles and permissions for your users so that they will only see functions and information on the Dashboard related to that role. For example, if you assign the Sales role to a user, they'll only see the Sales section of the Dashboard. See Users.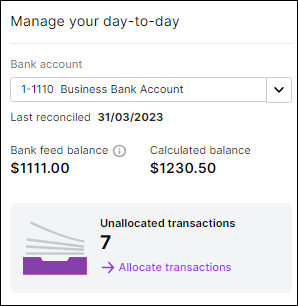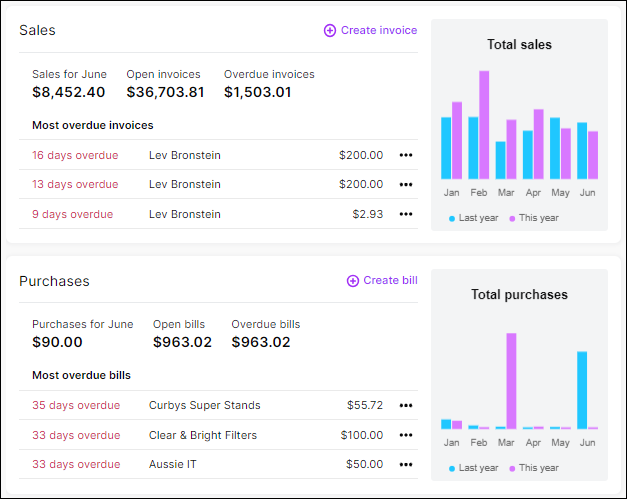 Sales and Purchases
The Sales and Purchases sections of the Dashboard show you how much money is coming in and going out of your business.
Your most overdue invoices and bills are shown, and you can click the ellipsis

button to see the related transaction or contact.
Create an invoice or bill, straight from the Dashboard by clicking Create invoice or Create bill.
You'll see a graph comparing the last six month's sales and purchases with last year. Hover over the bars in the graph to see values.
In tray
If you've uploaded supplier documents to your In tray that are waiting to be linked to transactions, you can do it from here on the Dashboard—just click Link documents.
You can also quickly add documents to your In tray by dragging them here or browsing for the files on your computer. Click More ways to upload for some other smart ways to upload documents.
Learn all about Working with In tray documents.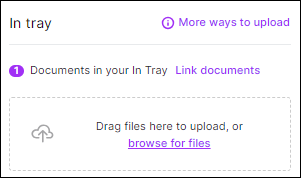 Pay runs
See details of previous pay runs, including the pay periods and payment dates, without having to run reports. If there's a draft (saved) pay run you haven't finished yet, continue it straight from here.
You can also create a new pay run or click to view all your previous pay runs.
If you haven't set up payroll yet, click Get started to get the ball rolling.
Business tracking
The How your business is tracking section of the Dashboard gives you a snapshot of your income, expenses and net profit for a chosen financial year.
Hover over a point to see the monthly values.