This information applies to MYOB AccountRight version 19. For later versions, see our help centre.
https://help.myob.com/wiki/x/sAKc
ANSWER ID:11222
It is common for goods that a business trades in to be bought and sold in packs, sets or boxes rather than individually.  In some cases a business may buy items that come in a pre-packaged minimum quantity but may choose to sell them as single units.
The inventory module of AccountRight lets you specify this kind of information for your items. To maintain accurate stock level information in your company file, it's important to understand how the fields provided for this purpose operate.
This support note explains these fields and the concepts underlying them.
What is a 'Unit of Measure'? 
Some typical units of measure include:
Each
Box
Pair
Case
Gross
Hour
Day
For example, assume one of your items is a lamp set that's always sold or purchased in pairs; this item could be assigned a unit of measure of Pair.
In the Buying Unit of Measure field, you'll enter the item's buying unit of measure. This is the unit of measure by which the item is packaged when you purchase it. This unit of measure can be printed on purchases.
In the Selling Unit of Measure field, enter the item's selling unit of measure. This is the unit of measure by which this item is packaged when you sell it. This unit of measure can be printed on sales. 
Example
A stationer buys pens that are supplied in a box of 20. The pens are then sold individually.
The setup of the Buying Details tab of this inventory item would have a Buying Unit of Measure specified as Box, and the Number of items per Buying Unit specified as 20.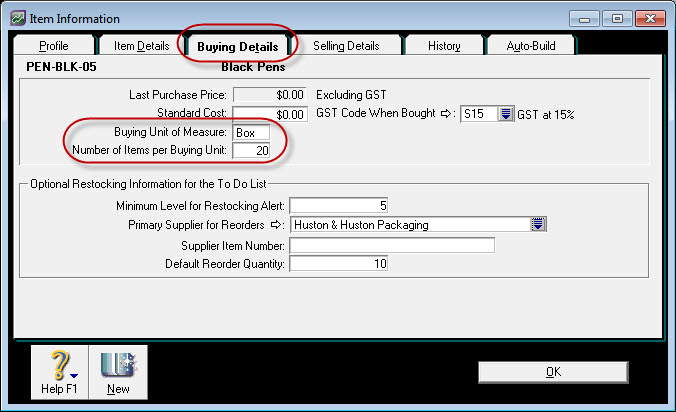 The Selling Details tab of this inventory item could be set up as per the example below: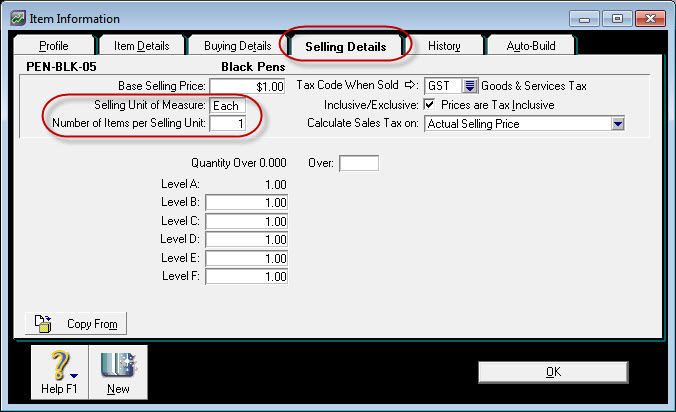 It is important to note that in this scenario when you enter a bill for this item and enter a quantity of 1 in the Bill column, 20 pens are going in to stock. If a quantity of 20 is accidentally entered thinking that 20 pens are being ordered, the result is that 400 pens will go into stock.
Once an item has been used in a transaction the items per buying or selling unit can't be changed.
If you're unsure as to the best way to set up quantities per unit, you always have the option of simply setting them up in a one-to-one relationship. In other words there is always a quantity of 1 per selling unit. This enables you to simply enter the total number of units you have received or sold on transactions.