This information applies to MYOB AccountRight version 19. For later versions, see our help centre.
https://help.myob.com/wiki/x/DQOc
ANSWER ID:37061
AccountRight Plus, Premier and Enterprise, Australia only
There are 2 primary sources of employee payroll information in your company file:
| | |
| --- | --- |
| Your employee pays | Your employee cards |
| | |
Processing pays in your software affects the accounts and balances throughout your company file.
Employee cards are updated with every pay you enter, but they can also be updated manually to reflect adjustments without affecting account balances.
Typically, the values of your pay runs match what's shown in the employee cards.
What if they're different?
There are 3 possible causes:
Manual changes made in an employee's card
Reporting differences due to date ranges
An error has prevented the employee card being updated after a pay run
Making changes to an employee's card?
Document the details in the Notes field so you have a reminder of what's changed. This will help resolve confusion months later when details may be forgotten! 
Fixing discrepancies
Fixing these discrepancies involves replacing or creating incorrect or missing pays, or fixing balances in the employee's card.
Replacing or creating incorrect or missing pays
Double-check what's been paid through Process Payroll to determine if a pay is missing or needs correction. This is best done with the following payroll reports:
Employees - Activity Summary
Employees - Activity Detail
Employees - Payroll Advice
Superannuation - Accrual by Category
Superannuation - Accrual by Fund Summary
Superannuation - Accrual by Fund Detail
Superannuation - Employee Advice Summary
Superannuation - Employee Advice Detail
Payroll Liabilities - by Category
Transaction Journals - Payroll Journal
These reports source their information from pay run transactions. If you suspect there's a problem with the pay run values, run the reports for monthly periods to pinpoint suspect values.
Fixing balances in employee cards
The Pay History in an employee's card is stored on a monthly basis, and you can select the Month, Quarter or Year to Date values to report on: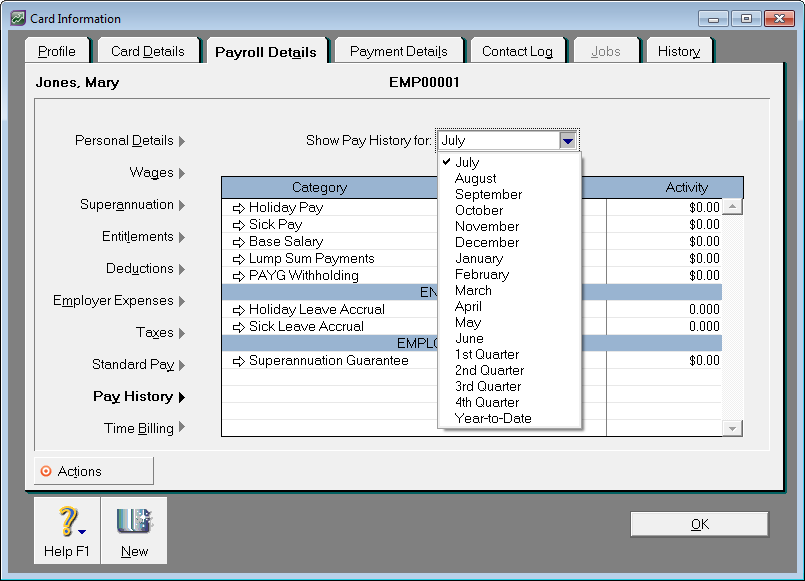 To identify where the discrepancy lies, you need to start with a wide date range then gradually narrow this down to pinpoint the cause.
Start by comparing the Year to Date values in the card's Pay History with the figures in your reports for the full payroll year (select Year to Date in the Show Pay History for field). If the values differ for the year, re-run your reports for the 1st quarter and compare the values to the Pay History for 1st Quarter.
When you identify which quarter has the invalid information, re-run the reports and compare the Pay History month by month.
The most common cause of reports not balancing is that the pays are being compared against the Pay History and due to the dates in use, more or less than a whole month is being reported and compared.
Found a discrepancy in an Entitlement Balance report?