This information applies to MYOB AccountRight version 19. For later versions, see our help centre.
https://help.myob.com/wiki/x/fAuc
ANSWER ID:9237
AccountRight uses the OfficeLink connection to send information to Microsoft Word and Excel. There's a few things that can affect this connection and cause an OfficeLink error. Here's an example: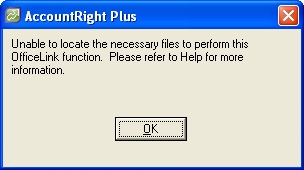 Which Microsoft Office versions work with AccountRight v19? See the system requirements.
OfficeLink errors can be caused by:
Not having Microsoft Office installed before AccountRight is installed. If your computer's hard drive is partitioned, make sure that both AccountRight and Microsoft Office are installed on the same partition.
Having Microsoft Word or Excel open when AccountRight tries to send the information
Missing or damaged OfficeLink files
Missing or damaged Microsoft Office files
A Windows corruption that prevents AccountRight from passing information to Microsoft Office
The tasks below will help fix this issue. Perform each task in order until your issue is fixed.