https://help.myob.com/wiki/x/ZR_EAQ
When creating a new period, you have the option of rolling over the previous period. You can rollover individual workpapers from a previous period into the current period. You may want to do this if a workpaper is not automatically rolled over from the previous period, or if you made an error and want to use previous data.
What does the rollover process do
Imports the closing balances from the previous period into the new period as the accountant's balances.

Attaches new workpapers to the accounts in the new period using the previous period as a guide. Those workpapers, which were completed and attached to accounts in the previous period, will be recreated and attached to the same accounts in the new period. Only those workpapers with the Rollover option selected will be generated and attached. See Adding workpapers.

Documents with the Rollover option selected will be linked again to the same accounts in the new period. See Linking Document Manager source documents or Linking external source documents.
The start date of the new period is determined by the end date of the previous period. The roll over process starts when the new period is opened.
The examples in this help use an AU system. The same information applies for NZ, but you may see or use some different options or details.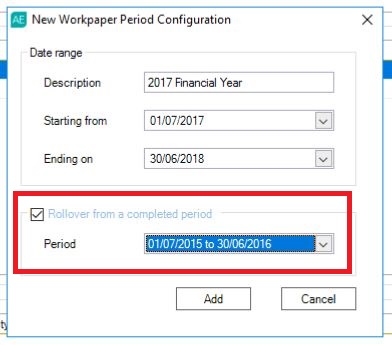 Rollover requirements
workpaper name, template and account code link must be the same

workpaper must be available in the previous year

workpaper must be in edit mode, not read only mode

prior period must have been completed

prior period must have been defined.
When you rollover from a prior period, all current workpaper data is lost.
MAS, Accounts or AO GL ledger: When a workpaper period is rolled over to the new period, the corresponding MAS, Accounts or AO Classic General Ledger must have had a roll forward as well. Otherwise workpapers will not draw any data.
Rollover steps
To roll over into a new period
Open the client's Client Accounting > Trial Balance (Workpapers) tab.
On the TASKS bar, click Add period.
The New Workpaper Period Configuration window appears.

Click the Rollover from completed period checkbox.
The new period will start from the end of the previous period.
This option is only available if and when the previous period is completed.

If the previous period is complete but the option is still not available, close the New Workpaper Period window and, on the TASKS bar, click Refresh.

From the Period drop-down list, choose the period to roll over from.
Click Add, to create and open the new period when rollover is complete.
The new period is listed in the Workpapers > Select Period table.
Opening the new period will start the rollover process. The time taken to roll over the existing period into a new period will vary depending on the number of accounts and workpapers in the previous period.