Before you jump into Client Accounting, make sure you've set up Client Accounting for your practice.
Installing and licensing was only one part of the initial setup. To make sure you're able to use the full functions and benefits of Client Accounting, you'll need to configure your Client Accounting Settings.
The Client Accounting Settings can be accessed via the Maintenance Map of your Accountants Office (AO) or Accountants Enterprise (AE) software. In these settings, you'll enable MYOB ledger and enter the location of any AccountRight Classic programs you have installed.
Almost everything you need to prepare your practice for Client Accounting is available in the Maintenance Map of Accountants Office (AO) and Accountants Enterprise (AE).
In this workflow, we'll show you how to configure your Client Accounting Settings and some additional tasks such as how to secure your client's data.
1. Enable MYOB Ledger for your practice
From within AE or AO, click the Maintenance menu and choose Maintenance Map.
On the TASKS bar, click Client Accounting. The Client Accounting page appears.
Click Client Accounting settings. The Client Accounting Settings window appears.

Click Enable AO/AE Ledger and Assets. A message appears, confirming that the ledger is enabled.
These tasks require Administrator permissions.
To perform these tasks, make sure you're logged into AE or AO as an Administrator or Super User.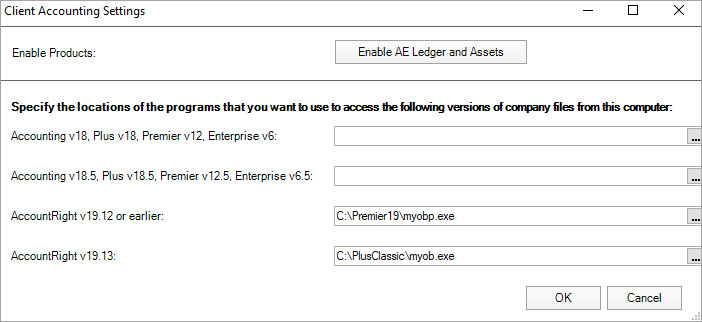 Head to the cashbook website for Australia or New Zealand.

On the login screen, enter your Practice my.MYOB login credentials and click Sign In. If you've set up two-factor authentication, you'll also need to enter your two-factor authentication code.
Once you're logged into Cashbook, click on the name of your practice located at the top-right of the screen.

From the drop-down menu, choose Manage firm users.

For each employee that you want to access MYOB Ledgers, click the toggle button in the Access column to display ON.

Once you're finished providing your employees access, log out or close the web browser.