https://help.myob.com/wiki/x/MoFW
Close
How satisfied are you with our online help?*
Just these help pages, not phone support or the product itself
Very dissatisfied
Very satisfied
Why did you give this rating?
Anything else you want to tell us about the help?
Once you update to the latest version of AccountRight Server Edition (2022.4 or later), you won't have to manually update your network every time there's a new AccountRight release. So that's less hassle for you and less downtime for your business. You also get better value, with more frequent improvements to AccountRight.
If you need to deploy AccountRight using a group policy, see AccountRight MSI installation instructions.
You'll need to do a number of one-off steps, such as install a new version of AccountRight Server Edition on your server and ensure that AccountRight PC Edition is installed on your workstations.
Once you've completed these steps, all AccountRight updates will be delivered to your network automatically.
To set up automatic updates
If you're using AccountRight Server Edition 2022.3 or earlier on your server, here's how to get the latest version. Once you're up to date, all future updates will happen automatically.
Troubleshooting
Had a problem with AccountRight Server Edition?
If you see either of the following messages when installing AccountRight Server Edition: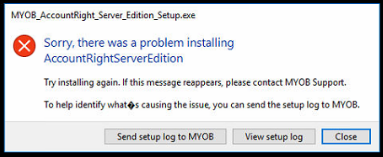 Try the following:
Make sure you've uninstalled all previous AccountRight Server Edition versions — see 'Uninstall all previous versions of AccountRight Server Edition' above for the steps.
Make sure you have installed all available Windows Updates — click the Windows Start button, type 'updates' and click Check for updates.
Try installing AccountRight Server Edition again.
Had a problem with AccountRight PC Edition?
If you experienced a problem with installing AccountRight PC Edition or with receiving automatic updates, see Installation troubleshooting.
Still having trouble?
Contact our Support Team for help.
FAQs