This information applies to MYOB AccountRight version 19. For later versions, see our help centre.
https://help.myob.com/wiki/x/jAKc
ANSWER ID:10920
If you have a large company file (500MB or larger), starting a new financial year (rolling over) can take a long time - sometimes hours. To check your company file size, go to the Accounts command centre and click Company Data Auditor. The displayed window shows the size of your company file.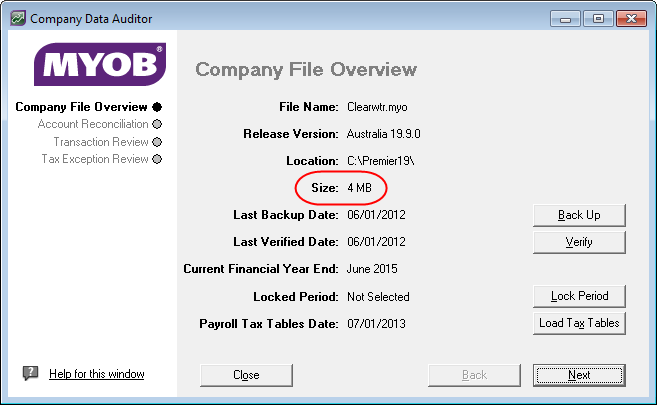 Not Responding? During the rollover process the computer may seem unresponsive or display "Not Responding". This doesn't mean the rollover has crashed, but rather it's still in progress. This is normal and you just need to wait for it to finish.
Interrupting the rollover process can damage the company file. If this happens, the entire rollover process will need to be started again. In some cases, your company file will need to be repaired.
Company file need repair?
Don't panic - our Data File Repair Team will get you back up and running in no time. Check our website for details (Australia | New Zealand).
Before rolling over
Complete all end of year tasks as described in the AccountRight help (Australia | New Zealand).
 From within each command centre in AccountRight, go to the File menu and choose Purge (this command will vary depending on the command centre you're in). Follow the onscreen prompts to determine the data you will purge. After purging within a command centre, go to the File menu and choose Optimise.
Recommendations for rolling over a large company file
Ensure you perform the company file rollover on the computer where the company file is stored. Never roll over a company file across a network.
If the company file returns any errors during an Optimise or Verify, search this help for details on your error. A rollover of a company file should not be attempted when errors are appearing.
Rollover the company file overnight. This will minimise the impact of processing time.
When you're ready to roll over
For all the details and step-by-step instructions, see the AccountRight help (Australia | New Zealand).