HTML Wrap
HTML Wrap
At MYOB, we understand you're entrusting us with your business data, and that's why we take it seriously. We use industry-best practice security protocols to keep your data safe, secure and private.
Secure data centres
Your MYOB data is stored and protected in high-security facilities which we monitor 24 hours a day, seven days a week. Although you can access and read your data or private information wherever and whenever you like, no one else can without your authority.
User authentication
No more
You can access any of your MYOB products with the same email and password combination you use
App-based 2FA only
If you don't have access to your 2FA device to get an authentication code, you can use a backup code instead. Each backup code can only be used once.
UI Text Box
Using email 2FA?
If you don't have access to your emails, you'll need to call us to recover your account (have your account details on hand):
Australia - 1800 620 430 (7am - 8pm Mon-Fri, 9am - 5pm Sat-Sun Melbourne time)

New Zealand - 0508 328 283 (9am - 10pm Mon-Fri, 11am - 7pm Sat-Sun New Zealand time)
Downloading, printing or regenerating your backup codes
When you first switch to a 2FA authenticator app, you're prompted to download 10 backup codes. You can download or print these codes again by signing into https://my.account.myob.com/backupcodes
From here you can:
download or print your remaining backup codes

regenerate 10 new backup codes. This deactivates your old codes, which is handy if you've lost them.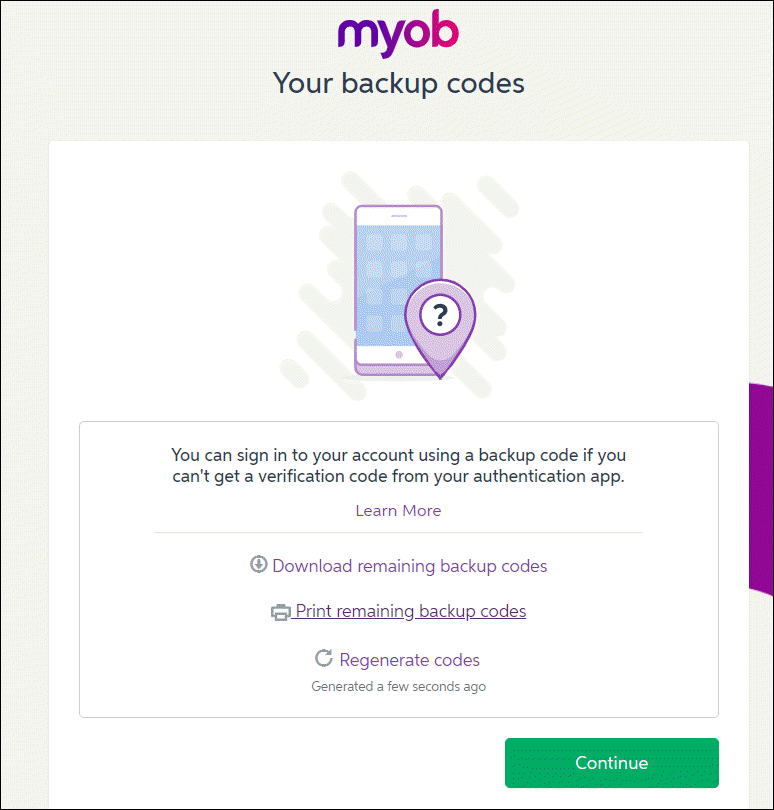 Image Added
Signing in with backup codes
UI Expand
| | |
| --- | --- |
| title | Signing in using a backup code |
Signing in using a backup code
Sign in to your MYOB account.

A screen appears asking for an authentication code. Click Try a different way to verify your account.

Click Use one of your backup codes.

Enter your backup code in the backup code field. The backup code you used to sign in can't be used again.

Image Added

Click Sign in, and you're done.
UI Expand
| | |
| --- | --- |
| title | I've entered the wrong backup code |
I've entered the wrong backup code
If you enter an incorrect backup code, you'll get the following error message: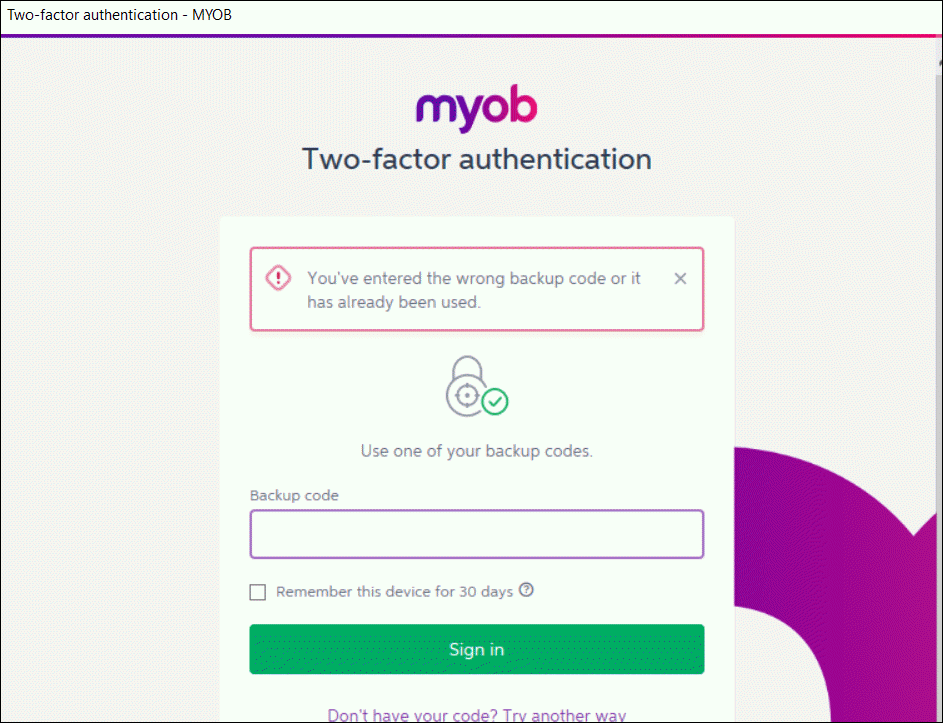 Image Added
Here's some things you can check to get past it. Have you:
made a mistake when typing in the code? Check the code in your 2FA app or email and try entering it again.

copied and pasted a code you've previously used. To get a set of backup codes you haven't yet used, go to https://my.account.myob.com/backupcodes, sign in and click Print remaining backup codes.

entered the wrong code too many times? If you've entered the wrong code five times, your account will be locked for twenty minutes and you'll have to wait before trying again.

entered a backup code for another account? If you use more than one 2FA app, have more than one account in your 2FA app or you use more than one MYOB product, it's easy to enter the wrong code for your MYOB software. To check this, make sure the email address in the backup code file you downloaded matches the email address of your MYOB login email:

Image Added

Need help?
If you don't have access to your backup codes, or you've tried signing in using a backup code, have had issues and none of the above tips have helped, call our support team (have your account details on hand):
Australia - 1800 620 430 (7am - 8pm Mon-Fri, 9am - 5pm Sat-Sun Melbourne time)

New Zealand - 0508 328 283 (9am - 10pm Mon-Fri, 11am - 7pm Sat-Sun New Zealand time)
HTML Wrap
| | |
| --- | --- |
| width | 15% |
| class | col span_1_of_5 |
HTML Wrap
| | |
| --- | --- |
| float | left |
| class | col span_1_of_5 |
Panelbox
| | |
| --- | --- |
| name | magenta |
| title | Related topics |
Panelbox
| | |
| --- | --- |
| name | yellow |
| title | From the community |
RSS Feed
| | |
| --- | --- |
| titleBar | false |
| max | 5 |
| showTitlesOnly | true |
| url | http://community.myob.com/myob/rss/search?q=get+started&filter=labels%2Clocation&location=forum-board%3AEssentialsAccounting&search_type=thread |